I remember the first time that we left our two older kids home alone together.  This is in the pre-Laylah (our 3 year old) days.  Maylee was in middle school and Lauren was in elementary school. We were a little nervous about doing it because the girls weren't getting along too great at the time.  Our fear was that without parents to mediate,  it could get ugly.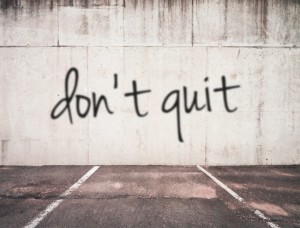 Then Dad had a great idea.  I sat down with both of them and asked if they thought it was cool being left home alone.  They both assured me that they did.  It made them feel grown up and not like kids.  I then asked them if they would want us to start doing that a lot.  They were most definitely in for that.  I'm sure that thoughts of unrestricted access to both television and snacks were weighing heavily on their minds.  We left that night with a little bit more confidence.
Would you like to guess what happened? They were good.  That is a huge understatement.  They were amazing.  The house was cleaner than it was when we left.  There were no dishes out, no mess anywhere.  They had even put themselves to bed.  Honestly, it went better than typical nights would go when my wife and I were both there.
Why? Because they wanted it to happen again, because they wanted to do well so that they would be rewarded with more freedoms.  They wanted blessing and privilege and reward.
Jesus told a better parable when describing what it is like to live here while waiting to see God face to face either when we go to him or when Jesus comes back here.  It is commonly referred to as the Parable of the Talents in Matthew 25.
14 "Again, it will be like a man going on a journey, who called his servants and entrusted his wealth to them. 15 To one he gave five bags of gold, to another two bags, and to another one bag,[a] each according to his ability. Then he went on his journey. 16 The man who had received five bags of gold went at once and put his money to work and gained five bags more. 17 So also, the one with two bags of gold gained two more. 18 But the man who had received one bag went off, dug a hole in the ground and hid his master's money.
19 "After a long time the master of those servants returned and settled accounts with them. 20 The man who had received five bags of gold brought the other five. 'Master,' he said, 'you entrusted me with five bags of gold. See, I have gained five more.'
21 "His master replied, 'Well done, good and faithful servant! You have been faithful with a few things; I will put you in charge of many things. Come and share your master's happiness!'
22 "The man with two bags of gold also came. 'Master,' he said, 'you entrusted me with two bags of gold; see, I have gained two more.'
23 "His master replied, 'Well done, good and faithful servant! You have been faithful with a few things; I will put you in charge of many things. Come and share your master's happiness!'
24 "Then the man who had received one bag of gold came. 'Master,' he said, 'I knew that you are a hard man, harvesting where you have not sown and gathering where you have not scattered seed. 25 So I was afraid and went out and hid your gold in the ground. See, here is what belongs to you.'
26 "His master replied, 'You wicked, lazy servant! So you knew that I harvest where I have not sown and gather where I have not scattered seed? 27 Well then, you should have put my money on deposit with the bankers, so that when I returned I would have received it back with interest.
28 "'So take the bag of gold from him and give it to the one who has ten bags.29 For whoever has will be given more, and they will have an abundance. Whoever does not have, even what they have will be taken from them. 30 And throw that worthless servant outside, into the darkness, where there will be weeping and gnashing of teeth.'
Jesus has gone a journey, so to speak. He said he would always be with us spiritually and he has left the Holy Spirit but he is no longer physically present.  He has left us here with a job to do.  He has given us talents. (In Sunday School as a kid, the two meanings of the word talent always threw  me off.  In the context of the story it is an amount of money)  He has given us life and literal talents and resources and time and, and, and.
We will see him. There will come a time where we will meet him face to face when the journey is over, and apparently he is going to have some questions for us.  He is going to want to know what we did with what he gave us.  What will he say after we give our answer?
I desperately want him to say, "Well done! Come enter into my happiness!"  I want him to proud and pleased.  I also want reward.  Some people believe these are unhealthy motivations.  Obedience should be enough.  It's selfish and prideful to want rewards and recognition.  If that's true, then Jesus sure did make a big mistake in including this parable.
It is not bad to want to please God. It's not selfish to want him to give to you what he said he would give if you're  faithful to use what he has given you wisely.  This is what I want and what I am striving for.
Sure, I have not and will not do this perfectly.  Sure I may have caught a bag of marshmallows on fire in the microwave once when I was alone. (I speak metaphorically for me.  Literally for our girls when they were alone once. Another story for another day.) However, I think about this passage a lot and how awesome it will feel to finally see face to face the one that I have given my life to and to hear his voice say to me, "Well done!"
What about you?  What keeps you going?
I was pontificating to one of my daughters the other day (I won't say who, because, well you'll see).  I was telling her that there are some ways in which I miss the terrible twos.  Before you declare me crazy, allow me to explain.  You see, when you tell a two year old to do (or not do) something and they do not want to, they make it very plain.  They scream "NO!" or they kick and stomp their feet.  It is clear that they disagree with your assessment of what they should spend their time doing and they clearly communicate to you their displeasure.  What it lacks in subtlety, it makes up for in clarity.
Nowadays, rebellion looks a little bit different.  Now when we ask someone to do (or not do) something, there is no screaming fit or tantrum.  There is nothing.  It is as if no one has said anything.  Life continues on.  I told this daughter that I miss the old days when rebellion stared me in the face with defiance than ignored us with passive-agression.
As always, even as I'm talking to my daughter and I am overwhelmingly aware of what a giant hypocrite I am as God whispers in my ear, "Hmm, I don't know anyone like that.  Someone who just doesn't want to, so he doesn't."  I'm going to confess to you, sometimes my "want to" is broken.  No active rebellion, no anger, just "don't want to."
What should I/we do? What do we do when our "want to" is broken?  We've all been there.  There are things we know we should do, must do, would be good to do, are right to do, etc.  However, we just don't want to.
Part of me is tempted to end the post there with a rhetorical question, mostly because I'm not sure I "want to" hear the answer.
I've noticed first that my "want to" is tied to how rested I am.  I'm not talking about simply physical rest, but spiritual rest as well.  Usually this is a good indicator that I need to either spend some time in prayer and the word and/or take a nap.  Do not undervalue either of these practices–devotionals and "deep" meditation.
Also, I think it is important that we draw from the "get to" tank before we go to the "have to" tank.  If this is starting to confuse you, I'm sorry.  When we don't want to do what is right, it's better for us to remember that it is privilege that we get to serve and honor God with our lives and obedience.  This is significantly better than have to.  We don't like being reminded that we have to do something any more than our kids do.  Even if it's true that we have to, I believe it is better to be motivated by gratitude than obligation.
Finally, to invent a phrase never before spoken or written and is certainly not overused in any and all contexts, just do it.  Have you ever truly regretted doing what was right when it was hard, or when you were tired or just didn't want to?  Maybe we can come up with few random examples, but an overwhelming number of times, we experience a joy from doing what God has called us to that make getting over ourselves worth it, which in turn leads to an increase in "want to."
So get up and have that conversation you don't want to have, make that phone call, pick up that Bible and get caught up with your Bible reading plan.  Because you know you want to, even when you don't want to.
There are a lot of ways that we try to motivate people.  This isn't really a well-thought out statement (Duh, we know what site we are reading), but I would imagine that the top 3 are guilt, manipulation and yelling.  The great thing about those methods is that they are quite effective.  When you yell at someone, there is a high probability that they will stop doing whatever is bothering you.  Try it some time (No, don't do that).
Guilt works the same way.  Isn't that why you call certain people?  You know the people that you call and you're holding your breath hoping that it's going to go to voicemail because you don't really want to talk to them but you feel like you have to and you contemplate hanging up after the third ring before it goes to voicemail just in case they might answer and you know that at least it will show up on their phone that you called? (That sentence really called for some commas or something, but I like the way that it looks)
Manipulation is great as well.  On an unrelated note, it doesn't matter to me at all if you bookmark this site or subscribe to the feed. It's no big deal.  It's not like I look on Google Analytics multiple times a day to see if anyone ever reads these posts.  It's not like a put a lot effort into them or anything.  You do what you want to do.
The problem with all three of these is that while they are all relatively effective, they are only effective in the short-term.  In the long-term they build resentment and harden hearts; they do not soften hearts.  They do not change people's attitudes. All they can do is change a behavior briefly.
The Apostle Paul understood that.  His desire for the Colossians was that they would walk with God for a lifetime.  He wanted God to change their hearts and that they would be faithful followers of Jesus.  He was significantly less interested in changing their immediate behavior.  He first wanted to provide the proper foundation and motivation for living their lives and having hearts devoted to God.
Colossians 1:9-14
9 For this reason, since the day we heard about you, we have not stopped praying for you. We continually ask God to fill you with the knowledge of his will through all the wisdom and understanding that the Spirit gives, 10 so that you may live a life worthy of the Lord and please him in every way: bearing fruit in every good work, growing in the knowledge of God, 11 being strengthened with all power according to his glorious might so that you may have great endurance and patience, 12 and giving joyful thanks to the Father, who has qualified you to share in the inheritance of his holy people in the kingdom of light. 13 For he has rescued us from the dominion of darkness and brought us into the kingdom of the Son he loves, 14 in whom we have redemption, the forgiveness of sins.
Notice the different phrases that Paul uses here.  He wants them to "live a life worthy" and to "please Him in every way."  Paul wants them to be "giving joyful thanks."  He reminds them of the overwhelming power of the gospel.  He believes that if they are mindful of what God has done and is doing in their lives, that they will want to live their lives for him.
There are a lot of different methods that we can use to motivate others to walk with God or use to motivate ourselves.  Let's use this one the most.  Reflect on the goodness and love of God that was shown through Jesus.  Let that be what drives us to be men and women worthy and pleasing to God.
(If you don't, I'll be really mad at you.  I MEAN REALLY MAD!!!)