Well, it has been a month since I blogged (Long story).  Sometimes when you have to take a break, you know you need to get back in, but it seems like you need to do something big when you start back.  What is bigger than reviewing the most anticipated movie since…hmm…Star Wars: The Phantom Menace, I suppose.  Made it to the Thursday night early opening.  9:30 show.  With about 30 minutes left the movie froze.  They couldn't get it back going for about 20 minutes.  They finally moved us to another theater.  I was there a long time.  Now I'm charged up, might as well write it before I go to bed.  I will not be proofreading ("Do you ever?"  Shut up), I mean it's 12:40.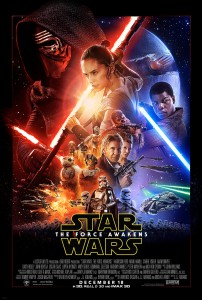 Star Wars: The Force Awakens AKA, Star Wars Episode VII: Don't Disappoint Us J.J. stars a whole bunch of people you don't know from anything.  Seriously, you don't.  You think you recognize them, but you don't.  It's only because they have been running teaser trailers forever.  It also returns many from the original cast including Indiana Jones, Marie from When Harry Met Sally, the voice of Joker from Batman the Animated Series is billed as being in the movie, but was not in any of the trailers unless that mechanical hand on R2 was him.  Is he in this movie or not? Spoiler free!!!!!!  Also, Gollum is in this.  Andy Serkis is perhaps the most underrated actor of our time.  He is great.  He plays a character that I had no knowledge of before I saw it.  I tried really hard to not know anything about this movie.
Expectations:How do you even begin to answer this question?  My hopes were off the chart high.  I tried to keep them as low as I could, but I couldn't help it, they were high.  I took a bathroom stop right before the previews and some guys dressed as Jedis were talking (they had seen it at 7).  They said they really liked it, so I was really confident.  The people who come dressed up are normally the hardest to please.
Reality: It was really good.  It really had the same spirit and feel as the original trilogy.  The new Star Trek reboot felt very different than the originals.  This felt the same in all the right ways.  It should cleanse the palate of all of those still sour from the second trilogy.  It was a great blend of the characters that we know and love but introducing some brand new characters, played by nobodies just like in the originals.  The effects were good, there were funny parts.  Everything that you would want from a Star Wars movie was there.
Appropriateness: It is a little violent but no more than any other Star Wars movie.  I would totally take a small kid to it that can take fantasy violence.  Way tamer than Lord of the Rings.  Even if I were uptight about these kinds of things, I still would recommend this movie for kids.
Rating System:
See it in the theater and will definitely own
See it in the theater and might own
See it in the theater and will likely Redbox it again
See it in the theater and be done
See it at the dollar theater
Redbox
Bored in 2 years and  watch it on Netflix
Avoid it.
I rate it a  See it in the theater mutliple times and buy it as soon as it comes out. There was never any doubt was there.  Well, maybe a little.  I really loved it.  I'm supposed to see it with the extended fam at Christmas.  Maybe I can wait until then to see it again.  We will see.  Call me.  I'll go see it with you.  After you see it, we can discuss all the things that I didn't spoil here.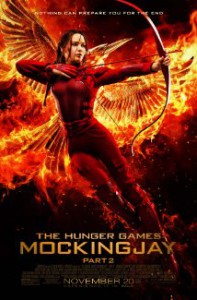 I have seen a lot of teenage post-apocalyptic dramas over the last few years.  It comes with the territory of being a dad of girls.  I have seen both Divergent series movies, Maze Runner, Ender's Game,and more.  However, the best of all of them, by far, has been the Hunger Games movies.  The first movie was very good.  After I saw it, Lauren begged me to read the books so we could talk about it before the other movies came out.  Dad of the Year did just that.  They were great books.  Movie #4 comes out today and, as is usually the case, Maylee, Lauren and I were at the early premiere on Thursday night. (I'm so glad they are not at midnight any more)
The Hunger Games: Mockingjay Part 2 AKA, How Can We Drag a 4th Movie Out of a 3 Book Series stars Young Mystique as Katniss and returns all the regulars: the boy from Bridge to Terabithia as Peeta (AKA Bad Luck Brian),  Woody from Cheers as Hamitch, the professor from Animal House as the best movie villain of the last 10 years, Thor's younger brother as Gale, and the back-up Clarise Starling as Coin.
Expectations: High but not too high.  The first movie was great.  Jennifer Lawrence is great.  The movies have kept pretty well to the book and have been enjoyable.  I was worried about this one a little because books split into multiple movies can tend to drag a little bit (Read The Hobbit and Harry Potter Deathly Hallows Part 1. (Lord of the Rings could have been 10 movies I suppose.  What makes them awesome, in part is that they only did 1 per book.  If they came out now, I can't imagine how many they would have made.  "Return of the King 7B is coming out in June! With 7C to follow in July #excited")
Reality: It was really good. I wondered after reading the book, would the movies end the way that the books did.  I didn't think that they would at first, but changed my mind some after watching the movies unfold.  (Is it a spoiler to reveal if the ending kept to the book? I'm going to say yes, it is a spoiler, so I won't say.)  Jennifer Lawrence, even though I'm sure she's tired of it, didn't phone it in. The action sequences are thrilling.  Donald Sutherland is the best.  In a world, where I was in charge of the Oscars, he would have one.  The story that the author tells is compelling and the movie captures that.
Appropriateness: It's scary in parts.  Lots of people die.  if you've seen any of the movies, this is the same.  It doesn't take it to another level or anything.  There are some creepy sewer monsters.  That's the worst part.
Rating System:
See it in the theater and will definitely own
See it in the theater and might own
See it in the theater and will likely Redbox it again
See it in the theater and be done
See it at the dollar theater
Redbox
Bored in 2 years and  watch it on Netflix
Avoid it.
I rate it a  See it in the theater and likely Redbox it. If you've seen the other movies, go see it.  It's really good.  If you haven't, what is wrong with you?  Don't see this one first, find a fangirl and borrow the other ones and then go see this.  It's more than an action movie or teenage love triangle movie.  It is a very compelling story that has some interesting things to say about human nature, power and corruption.  I definitely am going to miss the series.
So it begins, the holiday movie season.  We have some great ones coming up.  I of course mean Hunger Games and Star Wars.  You can keep the Academy Award nominees and go read a more sophisticated blog.  Here you get blockbusters and an occasional date movie.  Warning: I was not in a great mood when I watched this movie.  That could have clouded my judgment.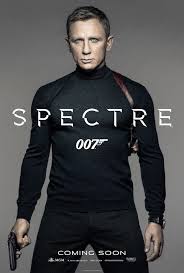 Spectre AKA, James Bond XXVI.  stars James Bond (Normally I reference another famous role, but this dude really is only James Bond, with all respect to Girl in the Dragon Tattoo and Cowboys and Aliens) in the lead role.  Co-stars include The Red Dragon as M.,  Drax the Destroyer as the bad guy henchman,  Mary Magdalene from The Passion of the Christ as the secondary Bond girl, the French Assassin from Mission Impossible: Ghost Protocol as the primary Bond girl and everyone's new favorite villain from Inglorious Basterds and Django Unchained as the bad guy.
Expectations: Moderate.  I have enjoyed this iteration of Bond movies more than the older ones (I've seen all of them).  I like that these take themselves more seriously.  I like that they are telling a continuous story instead of individual isolated movies.  However, I was in a bad mood and I wasn't expecting much.
Reality: It was OK.  I guess that means it met my expectations.  It was satisfactory for a rainy day-off kill a couple of hours afternoon, but I didn't love it.  I would have loved to love it.  There weren't enough great action/fighting scenes to make it awesome.  The plot was  little hard to follow, like they are now trying too hard to connect all of them.  I didn't really buy the Bond girl as a love interest.  I also feel that after some great bad guy performances that he defined for himself, Christoph Waltz tried to be too much of a stereotypical Bond villain.  However, Bautista in his limited role as OddJob 2.0 was really good and it's a Bond movie with chases and improbable escapes so it was good.  It just wasn't as good as I wanted it to be.
Appropriateness: It's a James Bond movie, OK?  He hooks up a couple of times but you don't really see anything.  There are a few bad words and some violence.  The one torture scene is kinda "Yikes!" but nothing like Casino Royale.
Rating System:
See it in the theater and will definitely own
See it in the theater and might own
See it in the theater and will likely Redbox it again
See it in the theater and be done
See it at the dollar theater
Redbox
Bored in 2 years and  watch it on Netflix
Avoid it.
I rate it a  Redbox. Unless you are a true Bond fan and need to see it in the theater, just get it on Redbox.  It will be fun for a couple of hours and is worth $1.50 or whatever. You spend real money and you might think you wasted it.  Casino Royale was great. Quantum of Solace and Skyfall were good.  This is just OK.
90% of this pastor blog is stuff that you would find on a pastor blog.  The other 10% is the stuff you would expect on my blog–fun things that I love to talk about–Disney World, Movies, 80's Music and Razorback Basketball.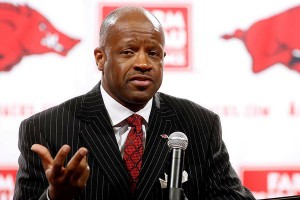 I have been a huge Razorback basketball fan for as long as I have memories, which for me dates back to Eddie Sutton.  I was at the first basketball camp that Nolan Richardson had at the U of A and loved him and his style.  This is part of the reason why it was very easy to say yes to the call of God to move to Fayetteville, where they just happen to play most of their games.  I have been a season ticket holder for the last couple of years.  It's great.  I love taking one of my girls or hanging with guys.  I just love being in the building watching the hogs.
So far, I've been to the Red-White scrimmage with Heidi and Laylah and met some folks from the Grove there.  Last night was the first exhibition game and I was there with the one and only Gregg Post. We've probably been to 50 games together.  He has tickets as well.  He drives and we use my parking pass–the perfect arrangement. You should put it on your bucket list to go to a bball game with Gregg and me.  It's quite entertaining.
So after an inter-squad scrimmage and an exhibition game, what can we say about the 2015-16 Razorback Men's Basketball team?  Not much, it's too early, but that won't keep me from throwing down about 1000 words.
Returning players: Unless last year's starting point guard, Anton Beard, can resolve his legal troubles, we (yes we!) will not have any returning starters.  That obviously is a challenge if you want to build on last year's NCAA tournament appearance and first round win (Yes, first round.  Those first games are play-in games.  The first round happens on Thursday.  I don't care what they call it.).
Because of early departures, graduates and 2 alleged counterfeiters, we only have 4 players returning who saw any real minutes last year.
Anthlon Bell–One of the best 3 point shooters I've seen when hot, but in the past has gone through extended cold streaks.  Looks great so far.  Looks mature, calm and like a leader.  Optimistic about his senior year.
Moses Kingsley–The big man.  Huge defensive presence.  Trying to be more assertive in scoring and so far it's not working great.  Needs to let the game come to him, but love the aggressiveness and his defensive presence.
Manny Watkins–The kind of guy that people who use the phrase "emotional leader" would call an emotional leader.  I'm not sure what that's supposed to mean.  Anyway, one of the top hustle players I've seen in a hog uniform.  Does whatever it takes and works hard.  He know the limitations of his game and doesn't try to do more than he can do
Jabril Durham–He didn't see that many minutes.  More times than not he was the 3rd string point guard.  However, due to the mass exodus and legal issues, he has been thrust into the starting lineup.  He's a pass first, pass second, pass third, I suppose I'll shoot 4th point guard.  That's good for a guy without a great shot.  Seems improved.  Better court awareness and not pressing it too much.
Technically also returning:
Trey Thompson–A sophomore who rarely played last year.  He seems slimmer and more athletic and more comfortable on the court now.  Gave some solid minutes off the bench and I can only see him improving.  Very excited about his junior and senior years.  Should be solid this year but with growing pains.
Miles Keaton–Senior forward who played sparingly last year and now finds himself in the starting line-up.  I haven't been impressed in either game, but then I look at his stat sheet and it looks better than I remember.  Maybe my evaluator is off. Needs to play within himself a little bit more, i.e. the 15 footer is not his shot.  However, great hustle guy.
New players this year:
Jimmy Whitt: I couldn't be more excited about this guy.  I'm always hesitant when someone comes with big scoring numbers from high school.  Often, it is a reflection of low level competition in high school (read: Cannon Whitby and Darnell Robinson) However, he looks amazing.  Doesn't seem like a freshman at all.  Reminds me a lot of BJ Young, but without the attitude.  Shot looks ugly, but he scores.  Doesn't shoot 3 pointers but crashes the basket like crazy.  He'll have some freshman moments but should be a great player.  He will likely lead us in scoring this year.
Dusty Hannahs–I was skeptical, but now a believer.  In last year's red-white scrimmage, it didn't look like he was very quick and his shot looked flat.  However, either that was an anomaly or something has happened in 12 months.  He has Pat Bradley and Rotnei Clark written all over him.  He can take people to the basket and has a decent floater in addition to Al Dillard-ish range.  He will score 40 in at least one game this year.
Willie Kouassi–(How big a hog fan am I?  I didn't have to look up the spelling of that name.)  Big guy, tough on the boards.  Potentially great defender.  Will score almost all of his points on put backs.  Will give solid minutes off the bench but won't supply much offense.
Lorenzo Jenkins–Small forward freshman.  This year's Trey Thompson.  Will see limited minutes, more of a project.  Showed confidence but not much else.
We will do well:
When both 3 point specialists are hitting their shots.  It's great to have 2 guys (Bell and Hannahs) that you know can light it up at any time.  When they both are on, we will be hard to contain.
When we can find a 4th scorer behind Bell, Hannahs and Whitt.  It can be a different guy each game, but when there is a 4th guy who can score, we will be hard to stop.  Otherwise, we will struggle with points.
When (as always) our press and defense are at their best.  Haven't seen much in that regard yet, but it's Coach Anderson, so it's coming.
We will struggle:
When one or both of the 3 point guys are cold.
When we are on the road and play timidly.
When Whitt plays like a freshman.
When our post players can't score at all.
Outlook:
I am more optimistic than a lot of fans are. Not "Bo I think we have a shot at the final 4.  I'll hang up and listen." optimistic.  However, we will exceed expectations.  We have a lot of inexperience and youth.  This is probably the least talented team Coach A has had, but it has the potential to be one of the hardest working.  The lack of a superstar will make them play team ball.
Prediction:
9-4 in non-conference and 10-8 in conference. 19-12 going into SEC tournament.  Win a game or 2 in the SEC tourney and make a good run in the NIT.  That's down from last year, but will be a solid year.  These guys will be fun to watch and will set us up for a great year next year, especially if Malik Monk comes to the U of A.
Go Hogs!
First, you need to understand that when I say the best what I mean are songs that I think are the best.  If you are looking for a list of the most impactful or meaningful or blah blah blah songs, go somewhere else.  If you are looking for commentary that uses phrases like "guitar riff" or "vocalization" go somewhere else.  The social status of these songs or their musical genius is irrelevant.
What is relevant then? General awesomeness.  I'll evaluate these in 4 categories.  How I liked the song then, the music video then, how I like the song now, and how I like the video now. The video was an important part of the song in the 80s.  This was hard.  Limiting to 10 was challenging.  I may create a post at some point with the 100 best songs from the 80's and not put any commentary.  I would feel better about that.  I feel like I am hurting someone's feelings.  It would be like a list of my top 2 favorite daughters (I have 3).
10. Caught up in You by .38 Special
The song then—I remember the song and kinda liking it, but I don't remember loving it.
The video then—No memories
The song now—Love it! It may now be my number 1, crank it up, don't get out of the car until it's over song.  I have been known to play it on repeat online.
The video now—Oh my goodness! You have to watch this.  It was trying to be funny then, I'm sure.  It succeeded.  However, the level of unintentional comedy of the video now is off the charts.  Must watch!
You're Welcome!
9. Total Eclipse of the Heart by Bonnie Tyler
The song then—Epic.  Wailing female vocalists are my thing and this song may be the best of all of that category.  Has an awesome haunting quality about it and I loved it.
The video then—Confession (don't judge me). I thought she was very good.  That is essentially all I remembered from that video.  Good looking girl wearing white walking around in some mansion or something.  It was a little creepy, but her being cute made up for it.
The song now—Still love it for all the same reasons  It is definitely one of the top songs in the  "if I hear it, I will be singing it for days" category.
The video now—A) She's not that attractive. B) That video is creepy.  Way creepier than I remember.
8. Come on Eileen by Dexy's Midnight Runners
The song then—Great song.  Very catchy.  I'd say it's easy to sing along too, but it would be more accurate to say that it is easy to mumble along with except for when he says "Come on Eileen." No one knew the words to that song.
The video then—Hmmm, is it them walking around the street? Don't remember.  I'll let you know in a second.  Obviously, I don't remember the video.
The song now—Still great.  Also, in the era of Google, you can finally know what they are singing.
The video now—Oh yeah! The blue overalls.  Completely unremarkable video.  I'll still put it in here, just in case you don't know the song and you can hear it.
7. The Reflex by Duran Duran
The song then—The best of Duran Duran as far as I am concerned.  Though Rio seems to be the song they play the most on 80s on 8 on SiriusXM.  Hungry Like the Wolf seems to be most people's favorite.  Super catchy and fun song.
The video then—Perhaps one of the best videos of all time. (Cue Kanye)  Again, not because of artistic reasons, but for weirdness and unintentional comedy.  Watching it now may make it seem dated, but it was kind of ridiculous then too, but in great ways.
The song now—What is this song about?  I almost hesitated to put this on here because I don't know what the song is about and there is a theory that it is dirty.  (My wife believes this and is calling for the song to be banished from the list) However, the band is quoted as saying that they don't even know what it is about.  I'm going with that and keeping it on the list.
The video now—Watch it for the hair.  Watch it again for the awesome special effects waterfall.
6. Against All Odds by Phil Collins
The song then—I've been surprised by how many people don't know this song when I mention it among my favorite 80's songs.  Big fan of the power ballad love song genre.  While you may not put this is in the category of "power ballad," that makes little difference to me, since this is my list.
The video then—I never saw the movie that this came from.  It was rated R and I was 12 and from a very conservative home.  However, there was enough in that video to pique the interest of a 12 year old boy. (I apologize if that it TMI). I remember liking the video for sure.
The song now—Still awesome.  Love to belt this one out in the car.
The video now—Now that I am 43 and can do what I want, I don't want to see the movie.  It looks absolutely ridiculous.  I also judge the 12 year old me.
5. Jesse's Girl by Rick Springfield
The song then—Loved this song then.  I was only 10, but I loved it.  Had no idea who Jessie was or even the concept of a love triangle.  Just knew that this song was great.
The video then—Here I go again.  Was there a video for this? I'm not sure.  If I had to guess, I would imagine it is just him singing with his band.  We will see.
The song now—One of my 2 go to karaoke songs.  First song I ever sang at a karaoke party.  Love it.  If this song isn't on your list, you either didn't experience the 80's or we may not be able to be friends.  Great song.
The video now—I was mostly right.  90% is just him singing with or without his band.  Toss in a few poorly acted angsty scenes of him pining over the girl and a super-angsty crashing his bathroom mirror scene and you've got the video.  Only good in an ironic way.  He also smoulders a lot into the camera.  He was a heartthrob.
4. Eye of the Tiger by Survivor
The song then—How is this not #1? What is wrong with me?  This is one of the most popular songs of all time!  Rocky III was an amazing movie and this was an incredible song.  You hear this song and you just know that you can knock out anybody, including Mr. T.
The video then—Was there a video? (Recurring theme)  This song comes on and I remember the movie.  That means, most likely that the video was probably just movie clips.  If so, I loved it.  If not, that's why I don't remember.
The song now—My other go to karaoke song.  I even sang this song in a mullet wig at a church event once.  There may or not be video evidence.  The band intentionally raised the key of the song so I would almost be able to hit the high note, but not quite.  Very entertaining.  This song was and is one of the greatest.  The 80's song that sold the most copies that was not also a fundraising song (Like We are the World).
The video now—Nope, not a video from Rocky III at all.  The band trying to be tough.  It is ridiculous.  I watch this and I have to tell myself that they couldn't have been serious.  Watch it and decide for yourself.
3. The Power of Love by Huey Lewis and the News
The song then—Another great song from another great movie.  This seems appropriate to honor this song the week after Back to the Future day.  Huey Lewis dominated the pop charts for a couple of years and this is far and away the best one.  The fact that it was part of one of the best movies is just bonus.
The video then—Mostly just the band performing the song in a bar environment.  I always was disappointed by the video.  I wanted Marty and Doc to be in the video.  There is a moment at the beginning with the DeLorean and another at the end.  Other than that, it ignores the movie altogether.  Not a great video. The fact that the video is just blah and is this high on the list, speaks to how great a song this is.
The song now—Still great.  This song might be the one that gets stuck in my head the most after putting this list together.
The video now—Still awful
2. Borderline by Madonna
The song then—I'm not trying to get 80's hipster on you, but I think Madonna's best stuff was from this album. Borderline and Lucky Star and Holiday.  The Like a Virgin album made her number one in the mainstream, but this song was always the best.  The closest she ever came to recapturing this was Crazy for You which I believe was from the movie Vision Quest.  Great ballad, great song!
The video then—Most videos were just artsy and weird, this was one of the first I remember to try and tell a story.  She is getting discovered and  photographed by this creepy dude and there is jealous also creepy boyfriend or something.  This was her maximum cuteness in my mind, even though I didn't understand her outfits.
The song now—Still the best.  The girls know for sure that there will be no changing the station if this song comes on.
The video now—Still cute.  I'm judging 1984 Charlie a little less.
1. Call Me by Blondie
The song then—What does an 8 year old know about music or anything?  Nothing.  However this is a great song.  I would call the radio station every day to request it in the hopes that it would stay number one even longer (as if requests and plays in El Dorado Arkansas were moving the needle)  This was all the manipulation of my 14 year old brother, but nonetheless, I loved this song, the intro comes on and you are ready to go.  Blondie had some great stuff in the early 80's.
The video then—I was 8 and by the time videos were mainstream, this song wasn't popular.  I have no memories at all of this.  The best standard guess is her singing in front of some psychedelic background.
The song now—It was number one then and is still number one.  I hesitated for a while when putting this list together.  I considered all the songs in the top 4, but not for long.  This is the one.
The video now—The definitive 80's music expert (My brother Brad) says he doesn't remember this video though it is the one that Blondie says is official on their website. *shrug* She's prettier than I remember.  I remember being scared of her, probably because she had two colors of hair, blonde and black.  I thought that was creepy.  (I was 8).
There you go THE list.  I guess this is the part where I ask for your inferior list.  So, what you got?  What are your top 80's songs?
I was hanging out with my mom yesterday and we are now 80 days away from our 5th trip to Disney with our kids. (We go about every 3 years which is a great rhythm for us.)  So, she and I spent a lot of time looking over plans for our trip and it's on my brain, and once a week I like to put something on my blog that I love that is fun and not so serious.  (Sorry, I take that back.  Winning at Disney World is quite serious)  If you missed the first 10, check them out here.  If you are planning a trip you definitely need to read that one first.
1) Stay on-site at a Disney Hotel if at all possible. I know that you can save some money staying off-site, but there are other money factors to consider.  You don't have to pay for parking, and you won't use any gas.  Their buses take you wherever you need to go.  You also will save a lot of time if you are trying to get there by rope drop (If you don't know what that means, seriously read the other post).  You can walk out of your room, to the bus stop and the bus takes you close to the entrance.   You bypass paying for parking, and having to take the shuttle or monorail to the front gate.
Also, staying on-site immerses you in the Disney experience, which is part of the fun.  It feels like you are in a completely different world rather than at a tourist attraction in the middle of Orlando.  It enhances the magical experience for the kids (not me, the kids.  I'm a grown man.)
2) Eat at some character meals. A character meal is a meal at a Disney restaurant where some of the Disney characters walk around the restaurant and take pictures with you.  Not only is that just a super-fun concept in and of itself, but it also allows you to get your character pictures and autographs done while you are eating.  For every picture and autograph you get in a restaurant, that is one less line that you have to stand in at a park or one less FastPass+ that you have to get.  Meeting with characters in one of the prime attractions at Disney.  Now we get to walk past people standing in line for that and think about how much we are winning.
Some of our favorites:
Chef Mickey's–buffet, decent food, Mickey, Minnie, Donald, Goofy and Pluto.  Those are the main characters and they all come to your table while you eat.
Cinderella's Royal Table–WARNING! Super-expensive.  Good food, you are eating at Cinderella's castle the icon of the park, it's Cinderella's castle! You get to meet multiple princesses.  (A cheaper alternative is Akershus Royal Banquet Hall in Epcot.  Food not as good, different princesses. Cheaper)
Crystal Palace–has the characters from Pooh, buffet, ok food for lunch, we've heard great things about the breakfast, will let you know in 90 days.
3) Go when kids are traditionally in school if at all possible. Teachers, don't rebuke me please, but pull your kids out of school if you can.  Look at your school calendar and see if there are any weeks where your kids are out of school for a few days that are non-traditional times (not Thanksgiving, Christmas, Easter, Spring Break, etc.), pull them out the rest of the week.  You will find that the parks are much less crowded and the prices much lower.  Less people + Less money = More winning.
4) Get good advice about what park to go to on what day. There is a lot of great advice out there.  Touring Plans, EasyWDW, WDWPrepSchool.  They all have crowd calendars and rate which park to go to on each day.  They know the natural patterns and this way you can go to the least crowded park each day of your vacation.  Your lines are much shorter and you are much happier. You need a great coach to win.
5) Wait to book your vacation.  Disney offers discounts for almost every season, unless you are trying to go spring break, Thanksgiving, Christmas–the times where the parks are packed.  If you wait, you can get one of the discounts.  The downside is that you will be late at making dining reservations.  You can book dining reservations 6 months in advance, but you will be booking your trip 90-120 days in advance.  Some premium time slots for best restaurants will be gone, but you will be able to find some good ones still.  It's a good trade off to save hundreds of dollars.  There's that less money = winning formula again.
6) Consider the Disney Dining Plan (But only if they are offering it for "free" or discounted. Nothing is free. If they offer it for free, you are paying a little more for your hotel room.)  If you are staying onsite, it is a way to prepay for meals.  This is not always a value.  Here is a website to help you check.  What we have found when we have used it  is that it allows us to eat at nicer restaurants and order more expensive food than we would normally because you are paying for meal credits, regardless of the price of the meal.  It's a little more complicated than that, but when you check into it there's a lot of good explanation.  It saves the potential stress of having to say know to your kids (or you) getting a drink or a dessert at every meal to save money, because stuff like that is included.  Again, it's not always a good financial deal.  Sometimes it would be better to pay out of pocket on-site.  Check the calculator.  It's also a great way to consume a lot of calories in a week, another winning formula.
7) Amazon is your friend. We are shipping some snacks to the hotel via Amazon.  Unless, you are flying Southwest, you probably have noticed that paying for bags on airlines can add up.  We are using Allegiant and they charge for carry ons.  So, we are figuring out what snacks we want/need and ordering them off Amazon and having them shipped.  We are Prime members so the shipping is free.  Cheap way to get stuff there.  Cheap + more calories = X (solve for X)

Consider the pace of your day and your week. If you have read the first post or talked to me about this, you know that we get there early and go fast all morning.  We cover a lot of ground quickly.  However, you have to consider the pace of your day and week.  This will vary a lot depending on who all is in your party.  We will have a 4 year old and a pair of grandparents.  So, we are planning slower days after our busier days and late nights.  We try not to have 2 late nights in a row.  We also plan times, when those who need more rest or need to go slower can break from the pack.  If this sounds like a lot of planning, it is.  Disney World is way too crowded and complicated and overwhelming to just wing it.  Winging it = losing. Obsessively planning = winning.
9) Embrace the Value Hotels. These are the cheapest hotels on-site.  Some people might be put off by the word value and in your mind you get a Motel 6 vibe.  It's not that.  It's a nice hotel.  Probably as nice as the offsite hotel you are considering.  The pools are incredible, the amenities are good.  We are there to tour Disney parks not be at a hotel.  What we need at the hotel is a clean bed and clean bathroom.  The value resorts have both. Great way to save hundreds or even thousands of dollars.  We are so exhausted after a full day of winning, it doesn't matter what the room likes like.  We only see our eyelids.
10) Figure out the technology of MyDisneyExperience and FastPass+ These are tools that Disney offers to help you with your touring and to get you on some rides at the front of the line.  (I may dedicate a whole post to this at some point, but probably after the trip)  It will help you stay out of lines and help tremendously in your planning for meals, characters, wait times, everything.  Don't let technology intimidate you.  Don't let that it just seems to be one more thing to complicate the trip hold you back.  Other people will be utilizing this and we just can't let them win.
There's a reason why there are countless blogs about how to tour Disney World–to do it well without waiting in a lot of lines is not simple.  You can't just walk in there.  You can, but you will regret mid-afternoon day 1.  To make it work, will require work.  It's a trade-off for sure, work hard in planning your trip pays off in a better more relaxing experience on the trip.  Do what we do, we turn the obsessive planning into fun anticipation for a great trip.  We rewatch the video that Disney will send you, we look at the websites, we brainstorm about restaurants.  The trip is much more than the week that we are gone, it is also weeks of excited shared planning and preparation.
Prepare to win. Enjoy the win. Celebrate the win.
For the 12 or so of you who remember the blog from my previous go around, you had to know that this was coming.  In fact, one person has been on me for a month asking me, "When do we get the movie reviews?"  Well the problem was, September is a terrible time for movies, but that's when I started back up writing.  I assured him that soon enough, good movies (and by good movies, I mean movies that I would want to see.  I don't mean poignant artsy movies.) would be coming out and the movie reviews would be back.  Here we are.
The Martian AKA, Gravity 2: Martian Boogaloo.  stars Jason Bourne in the lead role. I will answer my wife's question here.  "So, he's a martian?"  (My wife hates alien movies.)  No, he is not a martian, but an astronaut stranded on Mars.  (My reviews are spoiler free, but what I mean by that is I won't say more about the plot than what is obvious in the trailer.  If him being stranded on Mars is a spoiler for you, I encourage you to read the text on the poster.)  We also have two sets of ensemble cast members.  His space crew that includes Ant-Man's funny friend, that girl from the 1st season of House of Cards (who is in like everything now, including the ill-advised reboot of Fantastic 4), Bucky from Captain America,  and the red-head from The Help, no the other one, no the other one, the one who caught Bin Laden in Zero Dark Thirty.  The ground crew at mission control includes Harry from Dumb and Dumber, Troy from Community, the Target Lady (???), the guy from 12 Years a Slave and Boromir/Ned Stark.  This is quite a good ensemble cast.
Expectations: Moderate.  I didn't know if it was going to be an exciting action movie, a slow descent into madness or what.  I was afraid that it was going to be too poignant, but at the same time, there were great people in the movie and I figured it would a good kind of intense.
Reality: Better than I thought it was going to be.  It was an appropriate amount of poignant.  I never felt it was preaching at me (That's my job, not a movie's job).  It was an interesting look into an individual's will to survive, the politics of decision-making and being a part of a team.  In addition there were just some cool parts.  Good mix of regular person good movie and fancy person good movie.  A bit long at 2 hours and 20 minutes.  The elimination of one "OH NO!" scene would have made it just about right.
Appropriateness: A few F-Bombs (some said and some written and more implied) and some other scattered language. You also get to see the backside of Matt Damon's body double.  There's a scene on par with Tom Hanks knocking out his own tooth in Castaway and that's a little bloody.
Rating System (Revised for 2015):
See it in the theater and will definitely own
See it in the theater and might own
See it in the theater and will likely Redbox it again
See it in the theater and be done
See it at the dollar theater
Redbox
Bored in 2 years and  watch it on Netflix
Avoid it.
I rate it a see it in the theater and Redbox. Heidi needs to see it.  So we will Redbox it at some point.  You should go see it.  It's visually captivating and a great story with great acting.  There's action, drama, humor, a little bit of everything.  It's the kind of movie, and this is rare, that you could recommend to a lot of different people.  It's not a date movie per se, but it would work well for a date, in that everyone will enjoy it for different reasons.
You may be wondering what it means to win at Disney World or a theme park.  If you are as competitive as the Loften family, you know instinctively what it means.  For people who are nicer than us, I'll explain.  There are two ways to win at a theme park.  The first is based solely on how you feel at the end of the day.  Some people walk away from a day at Disney and feel like all they did was wait in lines all day in huge crowds and accomplished nothing.  They lost.  You win when you feel like you rode what you wanted to and had a great time.  You may still be tired, but it's a "wasn't that fun?" tired and not a "I hate this" kind of tired. When you do that, you win.
There is a second way that you can win, and this makes theme park touring a competition. (Isn't everything a competition?)  You win by doing Disney better than everyone else.  Example: we had just finished the day at Animal Kingdom, one of the parks at Disney World, and we were on the bus headed back to the hotel.  A mom starts talking to my wife Heidi.  She says that she got at the park at opening and was there all day and only rode 3 things.  She talked about how exhausted she was and how she "hated this."  We, on the other hand, had been there since the park opening and had ridden the two main attractions 3 times each as well as riding about 10 other rides and we saw a couple of shows.  We win! This post is designed to help you WIN! Don't you want to win? Of course, you do.  As you can probably guess, in addition to winning, we really love theme parks, especially Disney World.  We are planning another trip soon.  Also, a shout out to Silver Dollar City, which we visit about a dozen times a year–always winning.  These principles will be broad enough to be applied anywhere, but I will focus on Disney, because, you know, DISNEY!
1) Get to the park well before rope drop. What is rope drop you may ask?  It's the time when they turn you loose in the park.  Most parks have a literal rope or chain or something that is holding you back from getting in.  When they drop the rope, it is time to go win!  Getting to the park before rope drop means that you have your ticket in hand ready to go before the park opens. Not buying a ticket, not in the parking lot, not "we're pulling in."  You are standing at the gate ready to go before they are letting people in. Depending on how busy/popular the park is, that may mean 10 minutes before or 40 minutes before.  I highly recommend 40 minutes for any park at Disney.  That may sound crazy but it is far and away the most important piece of advice.  You could stop reading now and win (not against us, but against most people).  If you get there 40 minutes early, you can be among the first 50 people in the park.  If you get there right when it opens, you could have 1000 people in front of you.  Get there what most people call early, within the first hour of opening, and you will have 1000's of people ahead of you and you will wait in line behind them all day.  We wait once and that is for the park to open.  Fun Fact: we got to Animal Kingdom once at 7:15 when it opened at 8:00.  Saw many of the Cast Members (employees) show up to work.  We even beat them!  Win!
2) Go to the most popular attractions first. This is not the same as going to the attractions that you most want to ride first.  This means go to the rides that everyone else wants to ride first.  Go to where the crowds will ultimately be headed before the crowds get there.  You have some sense of what the most popular rides are, ride them first, then the next popular ones, etc.  Then rather than waiting with or behind the crowds, the crowds are chasing you all day.  You know what that feels like? Winning.
3) Go hard early. Rest later. Some of you are already thinking that this is sounding exhausting.  It's not exhausting.  Exhausted is what you feel after waiting in lines for 5 hours total all day.  It's a good kind of tired to get up early and have fun.  However, if you get up early, stay focused and hit all the rides you can early, then when the afternoon comes and the park is at its most crowded, you can rest.  Sit on a bench and taunt some people.  Go back to the hotel and take a nap.  Go see some of the shows where you are sitting for a while.  I promise if you get up early, work hard in the morning and then rest later, you will be significantly less tired than the people who are sleeping in and getting to the park at the worst time.  "But I want to sleep in on vacation!"  Great, go to the beach.  If you sleep in at Disney, you will walk away tired.  However, work hard in the morning and then take a well-deserved rest.  You've earned it, because, you know, you're winning!
4) Bring a snack. Take water and a snack with you.  Not only will you save money but you will also save time by not going to their snack counters.  Both matter, especially at Disney World.  Furthermore, as you are moving quickly around the park, you will be glad you had a snack to help you keep your energy up.  Also, the best time to stop and eat is for a late lunch.  This way you are waiting less to get your food, and you are still riding when others stop to eat.  You are eating when the park is most crowded and its the hottest.  You could also consider eating energy gel packets that marathon runners use, to make yourself feel more like a winner.
5) Know the park. Don't wait until you get there to get the map and figure out where the rides, bathrooms, restaurants, etc. are.  You need to at least have a general sense of where everything is.  You also need to know exactly where you are headed first and in what general direction you are going throughout the day.  If you need to look at a map to confirm some things, do that while you are waiting (every so briefly) to get on rides.  Don't do this:  I was walking, read jogging, across Disney to get some Fastpasses, back when they used paper Fastpasses, and I saw a mom pushing a stroller.  In front was dad with his face in a map.  As a move past them, I hear her say, "You better figure this out, because this is ridiculous."  That's what we call not winning.
6) Take advantage of any special touring opportunities. Most parks have some sort of way to get you to the front of the line on certain rides.  At Disney World, it is called Fastpass+ and is available to everyone who has a ticket.  Research this and use it.  It can make a huge difference and lets you ride crowded rides during busy times with little wait.  It's complicated, so don't do it the night before.  Start looking into it as soon as you know you are going.  Do the research, it will pay off big.  At Silver Dollar City it is called Trailblazers Pass.  It costs money.  I don't recommend it.  If you get there early and ride the big rides first, you will be fine.  We paid for the passes at Cedar Point because it was literally a once in a lifetime trip.  My Dad, Brother and I rode 20+ roller coasters in 6 hours.  Hmmm, what do you call that?  Hint: it starts with a w.
7) Have a plan, but make it flexible. I know that most people don't want to plan vacation.  You want to rest.  We've covered that a little already, but planning ahead will make your vacation more restful when you are there.  What rides do we know we want to ride? How popular are they? Where are they? Where do we want to eat?  You don't have to rigidly stick to the plan.  You may encounter something unexpected that looks fun, like an early parade that you weren't aware of or a character roaming freely.  Have a plan but don't be a slave to it.  However, there may come a point where your kid wants to do something now that would be better done later.  Make sure you don't just say no.  Just tell them that we will be back there later.  "We can't do that now.  We will do it after lunch.  Remember, we are winning."
8 ) Research any touring plans. Google is your friend.  Type this "(name of park) touring plans."  You will find some great information and websites from people who are even more psychotic about this than I am.  You will find multiple plans based on how old your kids are, interests, etc.  We found some before our trip to Cedar Point this summer.  It helped us know what the most crowded rides were and gave us a sense of the park.  It was a lot of help.  Someone else has done all the work.  They are offering it to you.  Learn from winners to be a winner.
9) Get everyone on board. If you are travelling with other people, you need to get everyone on board.  You don't want to spend much of your day waiting for your friends and family to show up.  If some people are resistant, get them to try it with you the first day and if they don't like it, they can do something else.  They will like it and you will be the hero.  You don't want people complaining.  That sounds like losing.
10) Have the heart of a servant not a dictator. This will be the best way to get people on board.  You are not trying to dominate the vacation.  You are not in a competition with your family and friends.  You are in a competition with everyone else.  Your role in researching and planning is making sure everyone has a great time.  It is the greatest joy for me at Disney.  My reward is the looks on my girls' faces when they get to see the character they want to meet, when they get to ride everything they want.  I will work as hard as I have to for that reward.  I want to love and serve them and for everyone to have a great time. That's winning!
It all seems very normal to me.  However, I can tell by the look on a lot of people's faces, that it doesn't seem normal to everyone.  My family is my wife, my three daughters (at this moment 17, 14 and 3.  Soon to all have birthdays.), and me.  One guy, four girls, that's us.  I love my family.  Don't ever ask me if I wish I had had a son.  You will receive sarcasm at best.  I live it every day and it seems normal to me because I live it.  However, I know it's unusual and I do feel it sometimes.  So here you go, 10 signs that you are a dad of only girls.
1. You go to someone else's house and you freak out a little bit inside that the toilet seat is up. There are no toilet seats up at our house–ever.  Maybe I have forgotten a couple of times in 21+years, but I made a decision to serve my wife and now my girls in this way.  So now when I go somewhere else and I see a raised seat, I think, "Is this OK? Someone is going to be in trouble."  Then I have an incredible internal struggle when I finish going to the bathroom.  Do I put it down?  I mean it's not my house, but still the seat is up.  This is how I found it.  So, I leave it up, but I don't feel great about it.
2. You know the Disney Princesses. Do not misunderstand me.  I don't just know their names and can identify them.  I know just about everything that there is to know.  I can identify them just by the dress, hair color, hair style, associated Prince, whatever. I know which ones aren't technically Princesses (I'm looking at you Mulan and I won't even get into the  Pocahontas controversy)  I also know that for the most part, your favorite princess is the one that looks most like you, i.e. hair color and eye color.  Does that make Jasmine my favorite then?  No, I pick my favorite based on movie quality, and honestly I'm more of a comic relief minor character guy myself.  Gus-Gus is the man.
3.  You have ever been at lunch, work (bonus if you were preaching in front of hundreds of people), etc. and someone says to you, "Do you have glitter on you?" Yes, that has happened to me.  Apparently, the stage lights at our church really brought out the sparkle in the glitter that found its way onto my shirt.  It has also happened many other times, in less embarrassing contexts.  How does it get on you? (you may ask)  If you have to ask, you don't understand.  There are seasons where glitter is just everywhere all the time.  Just like there are seasons where cheerios are everywhere, or Barbie shoes, or orthodontic rubber bands. Glitter is like cat hair, but more fabulous and I'm less allergic.
4. No one borrows your stuff. All my shirts are right where I put them.  Same with my shampoo and soap.  No one wants my stuff.  My stuff looks and/or smells "like a dad." I don't take that as an insult, but I assure you that it is not a compliment either.  It's ok for me to look and smell like a dad, but no one else wants to.  On the rare occasion that someone uses my shampoo (that smells like Old Spice), it doesn't happen twice.  "AAARRRGHH! I smell like a dad!!!!"  Notable exception: my long sleeve t-shirts make great night shirts.  I don't wear long sleeve t's very often, so when they claim one, it becomes theirs.  So technically they are not borrowing them.  They are stealing them.
5. You leave about 30 minutes later than you want to when everyone is going together. I've been observing this phenomenon for years, and I can't really explain it.  I can only describe it.  There is always one who forgot something, lost something, needs to do something, whatever.  Just when that person finds or does whatever and there is a glimmer of hope, that sparks the memory of another.  Now they are gone.  They can't do these things concurrently and I'm not sure why.  It just the way it is.  So, you have to implement the "say we need to leave at 2:00 when we really need to leave at 2:30″ policy.  As everyone gets older and wiser, they ask, "Is it really 2:00 or are you just saying that?"  Poker-face.  Give them only the poker-face.
6. Similarly, it takes 5 extra minutes to leave when you are going somewhere by yourself. This is because you have to make sure that you equally distribute the hugs and kisses.  It's not as easy as it seems, because if it takes you too long to do this, then the girl you first gave a good-bye hug to will forget that you already hugged her or will decide she needs another.  It is possible to get caught in an infinite loop here.  It's OK though, I don't mind at all.
7. Your selfie game is stronger than other guys. If you do not understand the phrase "selfie game," then you probably don't even have one daughter.  Anyway, I have been in countless selfies with my girls and have been known on occasion to send selfies back and forth to my girls.  I know what situations call for what kinds of selfies, soft smiles, awkward looks, cheesing, whatever.  My game is strong.
8. Game time at your house is relatively quiet. You may think that this is counter-intuitive.  The girls aren't interested in the game, so they make noise and talk.  Nope that's not how it works.  The girls are not interested in the game, are repulsed by it and don't want to be in the room with it, less they get infected by it or die of boredom.  The battle is in gaining control of the TV.  However, once you have it, it's pretty quiet, except for the occasional mocking comment as someone is walking by.  (Just tune it out. Tune it out.)
9.  You can almost immediately tell the difference between Miley Cyrus, Selena Gomez, Taylor Swift, Adrianna Grande, etc. music. Furthermore, you know which ones put out good music and which one's don't.  Yeah, that's right.  I said some of it is good.  Are you judging me? Don't make me throw glitter on you.  In fact, I use the opportunity that I can tell the difference to explain to them what auto-tuning is.  I've been known to say, "The computer is singing pretty well in this song.  I wonder what ___________'s voice sounds like."  I give a lot of freedom in what we listen to on the radio.  Did I say radio? What they play in the car through their phone.  One rule.  No Bieber. No exceptions.
Finally number 10, you knew it was coming.  The cheesy one…
10. You are overwhelmed with love. Being the most important man in the world to 4 girls is one of the greatest privileges in the world.  I would not trade it for anything.  People ask me what it's like to be outnumbered.  I tell them that I wouldn't know, because they are all on my side.  I feel very blessed to have the family that I do and be the sometimes sparkly, but always loved dad of girls.
Sitting here with a little "live" blogging from McDonalds, which is funny because I have a meeting at Chick-Fil-A in an hour.  I hope I have enough time.  "Why? Why are you doing this?"  It is time to report on the great mystery that is Loverboy by Billy Ocean and the music list at the McDonalds on College in Fayetteville.  Not tomorrow, not next week, now is the time.
As I sat down, "He's Everything You Want" by Vertical Horizon was playing.  That's perfect, because that is Number 1 on the playlist.  Yes, I have the whole playlist, and whether it makes me late to my meeting or not, I/we will sit here and make it through the whole list once.  It's not that long, I probably won't be late.  It's just Miller and Gonzo anyway (staff guys).
YES! Number 2 is the song that started it all–"Loverboy" by Billy Ocean.  That "yes" was feigned surprise.  I knew it was next.  It's next on the spreadsheet.  There is no randomness to this list.  It is the same every time.  I mean every time.  Does anyone else here even know? Does anyone else even care?
Number 3–"Falling in Love Again" by Eagle Eye Cherry.  I wonder how long it would have taken me to put this all together without being able to Google lyrics and the always handy Shazam app?  It took me a couple of visits and a handful rotations anyway, because of the number 8 mash-up, which I will explain in just a few minutes.  Without them I would have definitely needed my brother as I tried to write down as many of the lyrics as possible and tried to remember the tune.  Perhaps, I would have brought in a tape player (Boom! Dated reference!) and recorded it and played it for as many people as I could.  That's old school cool, baby.
Number 4–"I Knew I Loved You" by Savage Garden. We are almost halfway there, and I feel compelled to explain what's going on here for those that don't track with my FB/Twitter posts on Sunday morning.
Every Sunday morning before church, I come to McDonalds on College, have a little breakfast and go over my sermon one more time.  The first week (after it reopened, I was going to the one on Joyce before that) I heard Loverboy by Billy Ocean.  I posted about it, because it seemed funny to me.  The next week I hear it again.  "What a coincidence!"  I posted about that as well.  Week number 3 and I hear it again, and I begin to understand that there is something foul at work here, not mere coincidence.  Wait…hold on…
Number 5–Don't Hold Me Down by Colbie Callet (I like her.)
Anywho, I begin to realize that there are some other, less memorable songs that I seem to hear every week as well.  So I make a decision, as only someone infected with just a little OCD would, to come here one morning during the week when doing some computer work/study to sit in the corner and carefully listen to a couple of rotations.  What a day that was.  I wonder how many people noticed the idiot in the corner, who occasionally would stand up and try to stand right under a speaker, looking like a goob.  You see, their fancy drink maker that crushes the ice is very loud.  Also, people in the restaurant, not realizing that Science was happening would be talking.  Wait, here we go…
Number 6– "I Want to Get Lost in Your Rock n Roll" by Bob Seger.  (*Added later.  Apparently, this is wrong.  Sometimes you can't trust Google.  The song is "Drift Away" by Dobie Gray.  My bad.  Thanks guys for sharing some of your OCD with me.) Some of you are very disappointed in me right now.  You think if any song should have stuck in my head it should have been this one.  Sorry, but Billy Ocean stands out much more.  Don't judge me.
Ok, so people are talking, ice is crushing and I'm wandering around like a goob, trying to hear, hoping that Shazam can hear, which often it can't, and I start compiling the list.  Number 8 continues to allude me.  I will have to come back another more quiet time.  This wouldn't be a problem, because, you know, I'm here every Sunday.  I will win.
Number 7–"It's Only Love" by Bryan Adams
Sidenote: Does any else even notice this?  Are the employees here slowly going insane?  They seem perfectly normal and nice.  I keep an eye on them and they seem fine. No noticeable changes week to week.  Maybe they can't hear it.  One of the guys who cleans the dining room is over the top friendly.  I like him.  Maybe he's hearing it?  Who knows?
What about the other customers?  Is anyone here long enough to notice it? Are people here with enough frequency?  Of course, it's McDonalds.  The same people drink coffee here every day I'm sure.  That's why McDonalds exists–Senior Coffee, well and addictive fries and Disney prizes in kid's meals.
The infamous Number 8 mash-up--"A Moment Changes Everything" by David Gray.  Why mash-up?  Well, because you only here the first half of this song before it cuts off.
Sidenote: It's disorienting to watch CNN with no sound and closed-captioning.  The pictures don't match the words.
Then when it cuts off, the second half of Number 8 mash-up–"Already Home" by Marc Cohn plays.  You hear the first half of Gray and the second half of Cohn.
My theory is this, wherever this recording of songs originates, there is a scratch, glitch, something in the recording.  There are in fact supposed to be a large number of songs, but it skips from the middle of song 8 to, say the middle of song 35 or something like that.
And we are back to Number 1–"He's Everything You Want" by Vertical Horizon.  Less than 30 minutes and we've heard them all.
So what are some potential action steps?  I could mention it to a manager.  But why would I do that?  They might would fix it and then where would I be?  I'm convinced that I can't preach if I don't here Billy Ocean.
I could when I order say, "If I can predict the next song, will you give me my order for free?"  I'll keep you posted.