Arkansas Razorbacks Men's Basketball Preview
90% of this pastor blog is stuff that you would find on a pastor blog.  The other 10% is the stuff you would expect on my blog–fun things that I love to talk about–Disney World, Movies, 80's Music and Razorback Basketball.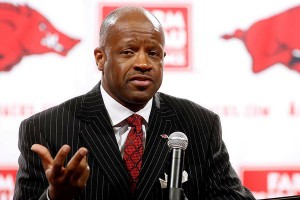 I have been a huge Razorback basketball fan for as long as I have memories, which for me dates back to Eddie Sutton.  I was at the first basketball camp that Nolan Richardson had at the U of A and loved him and his style.  This is part of the reason why it was very easy to say yes to the call of God to move to Fayetteville, where they just happen to play most of their games.  I have been a season ticket holder for the last couple of years.  It's great.  I love taking one of my girls or hanging with guys.  I just love being in the building watching the hogs.
So far, I've been to the Red-White scrimmage with Heidi and Laylah and met some folks from the Grove there.  Last night was the first exhibition game and I was there with the one and only Gregg Post. We've probably been to 50 games together.  He has tickets as well.  He drives and we use my parking pass–the perfect arrangement. You should put it on your bucket list to go to a bball game with Gregg and me.  It's quite entertaining.
So after an inter-squad scrimmage and an exhibition game, what can we say about the 2015-16 Razorback Men's Basketball team?  Not much, it's too early, but that won't keep me from throwing down about 1000 words.
Returning players: Unless last year's starting point guard, Anton Beard, can resolve his legal troubles, we (yes we!) will not have any returning starters.  That obviously is a challenge if you want to build on last year's NCAA tournament appearance and first round win (Yes, first round.  Those first games are play-in games.  The first round happens on Thursday.  I don't care what they call it.).
Because of early departures, graduates and 2 alleged counterfeiters, we only have 4 players returning who saw any real minutes last year.
Anthlon Bell–One of the best 3 point shooters I've seen when hot, but in the past has gone through extended cold streaks.  Looks great so far.  Looks mature, calm and like a leader.  Optimistic about his senior year.
Moses Kingsley–The big man.  Huge defensive presence.  Trying to be more assertive in scoring and so far it's not working great.  Needs to let the game come to him, but love the aggressiveness and his defensive presence.
Manny Watkins–The kind of guy that people who use the phrase "emotional leader" would call an emotional leader.  I'm not sure what that's supposed to mean.  Anyway, one of the top hustle players I've seen in a hog uniform.  Does whatever it takes and works hard.  He know the limitations of his game and doesn't try to do more than he can do
Jabril Durham–He didn't see that many minutes.  More times than not he was the 3rd string point guard.  However, due to the mass exodus and legal issues, he has been thrust into the starting lineup.  He's a pass first, pass second, pass third, I suppose I'll shoot 4th point guard.  That's good for a guy without a great shot.  Seems improved.  Better court awareness and not pressing it too much.
Technically also returning:
Trey Thompson–A sophomore who rarely played last year.  He seems slimmer and more athletic and more comfortable on the court now.  Gave some solid minutes off the bench and I can only see him improving.  Very excited about his junior and senior years.  Should be solid this year but with growing pains.
Miles Keaton–Senior forward who played sparingly last year and now finds himself in the starting line-up.  I haven't been impressed in either game, but then I look at his stat sheet and it looks better than I remember.  Maybe my evaluator is off. Needs to play within himself a little bit more, i.e. the 15 footer is not his shot.  However, great hustle guy.
New players this year:
Jimmy Whitt: I couldn't be more excited about this guy.  I'm always hesitant when someone comes with big scoring numbers from high school.  Often, it is a reflection of low level competition in high school (read: Cannon Whitby and Darnell Robinson) However, he looks amazing.  Doesn't seem like a freshman at all.  Reminds me a lot of BJ Young, but without the attitude.  Shot looks ugly, but he scores.  Doesn't shoot 3 pointers but crashes the basket like crazy.  He'll have some freshman moments but should be a great player.  He will likely lead us in scoring this year.
Dusty Hannahs–I was skeptical, but now a believer.  In last year's red-white scrimmage, it didn't look like he was very quick and his shot looked flat.  However, either that was an anomaly or something has happened in 12 months.  He has Pat Bradley and Rotnei Clark written all over him.  He can take people to the basket and has a decent floater in addition to Al Dillard-ish range.  He will score 40 in at least one game this year.
Willie Kouassi–(How big a hog fan am I?  I didn't have to look up the spelling of that name.)  Big guy, tough on the boards.  Potentially great defender.  Will score almost all of his points on put backs.  Will give solid minutes off the bench but won't supply much offense.
Lorenzo Jenkins–Small forward freshman.  This year's Trey Thompson.  Will see limited minutes, more of a project.  Showed confidence but not much else.
We will do well:
When both 3 point specialists are hitting their shots.  It's great to have 2 guys (Bell and Hannahs) that you know can light it up at any time.  When they both are on, we will be hard to contain.
When we can find a 4th scorer behind Bell, Hannahs and Whitt.  It can be a different guy each game, but when there is a 4th guy who can score, we will be hard to stop.  Otherwise, we will struggle with points.
When (as always) our press and defense are at their best.  Haven't seen much in that regard yet, but it's Coach Anderson, so it's coming.
We will struggle:
When one or both of the 3 point guys are cold.
When we are on the road and play timidly.
When Whitt plays like a freshman.
When our post players can't score at all.
Outlook:
I am more optimistic than a lot of fans are. Not "Bo I think we have a shot at the final 4.  I'll hang up and listen." optimistic.  However, we will exceed expectations.  We have a lot of inexperience and youth.  This is probably the least talented team Coach A has had, but it has the potential to be one of the hardest working.  The lack of a superstar will make them play team ball.
Prediction:
9-4 in non-conference and 10-8 in conference. 19-12 going into SEC tournament.  Win a game or 2 in the SEC tourney and make a good run in the NIT.  That's down from last year, but will be a solid year.  These guys will be fun to watch and will set us up for a great year next year, especially if Malik Monk comes to the U of A.
Go Hogs!