Let's Talk About Sex
We got the word out last Sunday that we will talk about sex at The Grove Church this Sunday.  It is not unheard of for a church to talk about sex on a Sunday morning, but it is still unnecessarily rare.  We are not talking about it to simply be provocative and potentially have a high (or low) attendance Sunday.  We are talking about sex because it's important and we need God's voice on this topic to be as loud as all the other voices.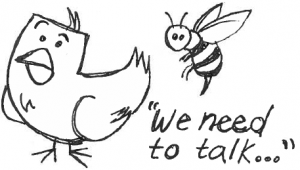 I grew up in a church that talked about sex, at least in our youth group, but really we only had one thing to say about sex.  SEX IS BAD! DON'T DO IT!  You just keep saying that over and over again until it takes root in their hearts.  If it doesn't seem to be working, then say it louder or with more guilt and anger.  Perhaps you should even consider using awkward illustrations, the more props the better.  Maybe you should even consider using an outdated video.
Before you think I am something that I am not, I firmly believe that God's design for sex is only for a married man and woman.  I am 100% for abstinence.  I'm the guy who has crazy restrictions on his daughters for dating.  (Read here.) I'm certainly not encouraging anyone who is not married to have sex.
However, can we agree on a couple of things?  Sex is not bad.  Sex is not a necessary evil.  Sex is amazing and an incredible gift from God.  Also, God has much more to say about our sex lives than a list of people who shouldn't be having it.  When we act like all that God has to say about sex is that some people shouldn't have it, we do damage.  We also make the only voices informing us about sex to be voices that are pointing people away from God's design. So, we at The Grove Church and your lovable curmudgeon Cloften will be talking about more than just when not to have sex.  Because when we fail to do that we make the following mistakes:
1) We confuse our kids.  Your kids don't have to be geniuses to figure out that sex is not bad.  They don't even have to experience it to know that.  Too many people seem to be enjoying it.  Pursuing sex also seems to be very natural.  For heavens sake, they know that you have done it…at least that one time.  Please, please, please do not be one of those parents that is ashamed of your physical attraction to your spouse or make it seem awkward or dirty.  It would be better to make your kids uncomfortable and show your kids that you have a healthy love and attraction for each other rather than reinforce that sex is dirty or something to be embarrassed by.
So if you are only telling them that sex is bad and they intuitively know that is false, then you become an unreliable source.  Everything you say about love, sex and dating is false, because this one thing that you say is definitely false.  If this post gets some traction, I'll will post later about talking to your kids about sex.  I'll give you 23 words on it here.  Try this: Sex is awesome when done in the right context–marriage.  When you do it any other time, it causes more damage than joy.   Ok, a few more words–do not every make your kid feel embarrassed for asking a question about sex.  Affirm their question and answer fully.
2) Our marriages suffer. If we are not talking about sex openly and honestly, then our marriages will face serious consequences.  Without open, real conversations about sex, we are left with two conflicting ideas.  One is that sex is dirty and I should be embarrassed. (There is no switch that you can flip that goes from "Sex is bad. Sex is bad. Sex is bad." *Wedding Ceremony* "Sex is great.")  The second is sex is supposed to be like it is on TV or movies, or worse, porn.  Hey guess what? It's not.  However, it is an awesome time of emotional connection and physical intimacy which married couple should do, a lot.
Have you had a conversation with your spouse about it? Are you satisfied with your relationship? Does your spouse know? Is there something that if your spouse started doing or stopped doing during sex that would make it better? Do they know?  Talk about it!
3) We miss out on God's awesome gift. Seriously, you know this, I think.  Sex is great.  It is a designed gift from God given to us.  If he wanted it to just be about making babies, it wouldn't also feel so great.  It wouldn't also be a time of such emotional connection.  Too many of us are settling from something significantly less than an ideal sex life. We don't have this great emotional, spiritual connection with our spouse, because we don't talk.  We are having sex too infrequently.  We are not meeting each other's needs.  It's just not as fun as it could be.  The simple reason is because we won't ever have a clothes on, lights on, calm conversation about how we are doing in this area. The only time we talk, somebody is mad because someone just got rejected or feels put upon.
What if? What if we had healthy conversations with our kids and they grew up without the awkward discomfort that some of us grew up with?
What if? What if we knew how we could serve our spouse better by just asking?
What if? What if there is something way better than what we are experiencing out there?
What if you made a decision to actually talk about sex?