I Don't Want Normal Relationships
There is a striving that so many of us have to be normal, to fit in.  You see this mostly in teenagers, but many of us never grow out of it.  We don't want anyone to think that we are weird.  We don't want to stand out and have people judge us.  We want to be thought of as "regular", and sometimes following God's plan for our lives or having his standards for dating and marriage are just too weird.  We just want to be normal.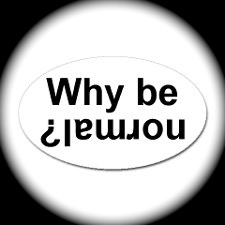 I have had versions of this conversation with one or both of my daughters many times.
"You must/can't do blah blah blah"
"But Dad everyone/no one  is doing blah blah blah. I'll be weird. Well, even more weird than everyone already thinks I am."
This is where a parent is supposed to consult the parenting cliche manual, page 34 and say, "If everyone jumped off a cliff, would you?"  However, I am weird, so I say something completely different.  I ask them if there is someone that you know that you would rather trade with?  Not just on this issue, but in every way.  Is there someone who has a relationship with a boy that you envy? Is there someone's whose lifestyle that you want?  How is being "normal" working for everyone else?
(Disclaimer, this sentiment is found in the outstanding book Weird by Craig Groeschel.  Most content that I have that is worth anything I borrowed/stole from him or Andy Stanley. Thanks guys!)
I have made the challenge to my daughters that when you find a teenage dating relationship that is better than the one that you have, then I will modify all my weird dating rules.  Until then, enjoy the fact that you have the best relationship of any of your friends.
What do you think? Are normal relationships working?  How would you characterize a typical/normal marriage?  Normal dating relationships? Normal parents?  Unless you live someplace radically different than the rest of us, you will likely acknowledge that normal families and dating relationships are not healthy or enviable.  Divorce rates have never been higher.  More people are rejecting even the thought of marriage.  They look around and see that marriage doesn't work.  Kids are rejecting their parents and God.  The world is struggling to make relationships work and if we want to "fit in" then we should expect the same struggles.
If we want our relationships to be extraordinary, then we are going to have behave in extraordinary (read: weird) ways.
Date only people who are passionate about pursuing Christ.
Refuse to experiment with sexual intimacy until marriage.
You'll have a weird dating life, but it will be an extraordinary one.
Choose to forgive your spouse and not keep a list or wrongs.
Serve your spouse unconditionally not based on how they are serving you.
Stop lusting after other people and looking at porn.
Make an unconditional commitment to your spouse and never, ever leave–don't even talk like you might.
Proactively date your spouse and consistently share your heart.
Stop making jokes at your spouse's expense.
You'll have a weird marriage, but it will be an extraordinary one.
Be humble with your kids and apologize when you are at fault.
Be honest with your kids and completely and fully answer all their questions, especially the uncomfortable ones.
Be gracious with your kids AND hold them to high standards rather than just choosing one or the other.
Be patient with them as they are navigating new seasons of life and maturity.
Set boundaries for your kids and consistently enforce them.
You'll have weird kids, but they will be extraordinary.
It is time for us to stop trying to fit in and be normal.  Everywhere we look, marriages and families are falling apart.  Dating relationships are unhealthy and produce even worse marriages.  Kids are rejecting their parents values and the cycle of struggling families intensifies.  If what you are doing isn't working, do something different.  Try weird instead of normal.
Talk to someone and get some help.  Sit down with your family and ask them what they wish were different about your family.  Choose God's plan for marriage, for singleness, for parenting.  God's plan may, at times, be weird. However, if it is God's plan, you can know for certain that it is better than whatever idea you have about how to be a husband, wife, friend, etc.  Different is good and God's weird works!
Embrace Groeschel's book title, Be Weird: Because Normal Isn't Working