Most Often Abused Bible Verses #3
It's one of the most coveted cards in the Monopoly game.  The "Get Out of Jail Free" card.  It's very annoying to get stuck in jail, although if you are losing, it's a nice break from having to deal with your opponents row of hotels.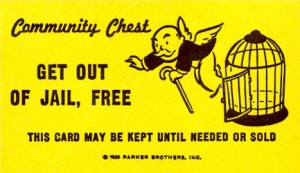 No such card exists in real life.  There is no card that you can show that can get you out of jail, certainly not literally.  There also is no metaphorical "get out of jail free" card either.  By that, I mean ways to get out of trouble for the stupid things we do or say.  We try to invent them.  Most of the cards that we create start with the phrase, "I was just…"  "I was just tired,"  "I was just hungry,"  etc.
However, the biggest, most often used "get out of jail free" card that we try to use is found in the Bible.
The Verse:
"Do not judge, or you too will be judged. 2 For in the same way you judge others, you will be judged, and with the measure you use, it will be measured to you.
3 "Why do you look at the speck of sawdust in your brother's eye and pay no attention to the plank in your own eye? 4 How can you say to your brother, 'Let me take the speck out of your eye,' when all the time there is a plank in your own eye? 5 You hypocrite, first take the plank out of your own eye, and then you will see clearly to remove the speck from your brother's eye.
Matthew 7:1-5
What we think that it means:
There are a lot of different ways to describe what we mean when we quote this verse. You're not the boss of me.  You can't tell me what to do.  How dare you? Who do you think you are?
Basically, what we think this verse means is that no one can tell us what we are doing is wrong.  If someone tells you that what you are doing is sinful or wrong, then that is judging.  Bible says don't judge.  Again, we play it like a "get out of jail free" card.  You do something wrong, someone calls you on it, play this card and you are out of trouble.
Why that is a bad interpretation:
First, there are multiple verses that say this it is our responsibility to confront or rebuke people's sin.  I Timothy 5:20, James 5:19-20, Galatians 6:1, Matthew 18:15.  That's just a few.  God is calling us to be involved in each other's lives and help and confront each other when in sin.  It can't mean that we can't tell someone that what they are doing is wrong.
This leads to the second issue.  What does the word judge mean?  As always, words have a lot of different meanings.  The context determines the meaning.  Judge can mean determine right from wrong or it can mean determine someone's value or it could mean to determine the consequence or punishment.  Just because something feels judgmental to you doesn't mean that it falls into the category of this prohibition against judgment.  It depends on what judging means, and you have to look at the context.
Finally, it is self-refuting.  You are judging someone when you say they are judging you.
What this verse means:
When Jesus says don't judge, what he says next is that the measure by which you judge someone will be used against you.  The word "measure" almost certainly is a reference to a scale that you would use to determine the value and weight of something that you were going to buy.  So what Jesus is prohibiting is determining someone's value.  That's not your role.  He says that if you do that, you will judged by that same measure.   This is by no means a prohibition against determining whether or not an action is sinful or telling us that we are not to be involved in correcting people or being corrected.
However, even though Matthew 7:1 is not a "get out of jail free card," there also are no licenses in the Bible for you to be a jerk to somebody.
If you see someone in sin and determine because of that sin, that they are less valuable to God or are going to Hell, you should be careful, because you do not want that same measure applied to you.  Not only that, but this passage makes it clear that when you do that, you are a hypocrite.  He uses an outrageous and hilarious metaphor.  Someone is walking around with a log in their eye.  Then even though they are blinded by the log, they believe that they have the vision to point out a speck of dust in someone else's eye.  That makes you both an idiot and hypocrite.
This is especially important to the church today in the way that we treat people with what I will call "unusual" sins.  Most guys struggle with porn, so that's normal and understandable.  You get grace.  Being gay is unusual and therefore worse and worthy of condemnation.  Most Americans are greedy and terrible with money, that's OK.  Homeless people though are lazy and unworthy of compassion.
We compartmentalize sin and determine some sins are worse than others because they are foreign to us or repulsive in some way.  Therefore, even though I am a sinner, those sinners deserve condemnation.  That is not a measure by which you want to be judged, so don't judge.  In fact arrogant condemnation might be the log that you are carrying around with you that makes it where you can't see the specks in another's eye.
What we all need is someone who loves us to come to us gently and tell us what we are doing is hurting us and others.  We need those people to then help us get better.  I'll do that for you and you can do it for me.  That is a measure of judgment that I will gladly live by.