A Healthy Sex Life Begins with Dishes and Laundry
I don't want to be too provocative or racy on the blog today, but I need to tell you something.  I unloaded and loaded the dishwasher this morning.  In addition to that, I was the one to get up when Laylah got up this morning.  (She is definitely the first one up every morning since time change.)  After I got her breakfast, I remembered that I had run the dishwasher last night.  I unloaded it and put the remaining dishes in.  I went around the house and gathered up other dishes.  In the meantime, I also noticed some stuff of mine that needed to be put away.  I also saw a basket of laundry in our room that needed to be folded.  I'll work on that tonight.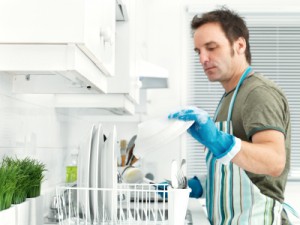 Again, I hope that story wasn't too racy for you but romance is in bloom at the Loften house today.  It actually started last night with the original loading of the dishwasher and watching one of our shows on Hulu last night.  We were next to each other and holding hands and just being tired next to each other.  Can you feel the heat?
This, my friends, is what romance actually looks like in your typical marriage.  Sometimes when we are watching a TV show or movie that supposedly is "romantic," I'll notice how suddenly, aggressively and awkwardly these people start having sex.  I wonder out loud to my wife, "Does that happen in real life?'  If it does, there is a completely different magical world out there where people aren't exhausted from kids and life and sex is on the front of everyone's mind all the time.
In the world in which I live, a healthy sexual relationship is a slow build over time.  It begins with the husband serving his wife all day or for a couple of days.  He communicates to his wife how much he loves her and is thinking of her, not simply with physical flirtation, but also with domestic service flirtation.  He is going out of his way to communicate love for his wife in the way that she receives it, not simply in the way that he is feeling it.  A guy gets a lot more mileage out of folding socks than a random physical grab or a sexual comment (shocking, but true).
In the world in which most guys live, a sexual relationship starts at night, in bed when he thinks, "We're both here.  We are already laying down.  What do you say?"  Then that same guy gets frustrated that his wife isn't into it and rejects him or begrudgingly goes along.  He gets frustrated that she is distracted by her day or tired or overwhelmed.  He is shocked that she didn't have the same thought, you know, what with them both being in the bed and all.
Too many men do not do the hard work to recognize how differently the mind and sex drive of their wife is.  They assume that women are just like them and get frustrated with them when they discover repeatedly that is simply not true.
I'll never forget the day it fully hit me.  I was watching TV in the living room by myself and there was a basket of unfolded clothes in front of me.  I simply started folding the clothes while I was watching.  Heidi comes by and says, "What are you doing? Trying to romance me."  I think, "Ummm, nope. But I am now."
It was then that I had finally noticed after more than 10 years of marriage, that it wasn't simply being nice to my wife and what I would call flirty, that romanced my wife.  I realized just how much serving her and trying to eliminate the things that distract her makes a huge difference in how she views me and our intimacy.
This may sound weird or even manipulative.  It's not, it's how romance works.  I show her love in the way that she wants to be loved and my wife responds to me by showing me love in the way that I want to be loved.  It might become manipulative if I bang a dish loudly, thinking she may not know that I'm doing dishes or I yell from the living room that I am folding clothes.  But even in that, it's just fun flirting.  Honestly, I wouldn't even be sure who would be manipulating whom.  Am I folding laundry to get sex? Or is she giving sex to get the laundry folded?  It doesn't matter.  We are both loving each other the way that we need and want to be loved.
A healthy marriage means each person is giving and receiving love.  That means that I need to know the way that she wants to be loved.  She wants to be pursued and served and she hates folding laundry.