If you are looking for a rant about how evil Ohio St. is and how the Razorbacks got hosed by having to play this group of cheaters in the Sugar Bowl, you will have to look elsewhere.  Perhaps you should try fakecloften.com or evilcloften.info or whatcloftenreallythings.biz (Seriously, isn't .biz uber-classy?)  This will be an attempt at something a little more thoughtful than that.  However, I'm sure you can google Razorback message boards or Michigan Wolverine message boards and get plenty of that.
I would think that most of us can agree that in the big picture of things, selling memorabilia in exchange for tattoos is not a big deal.  I would go so far as to say that a car dealership giving discounts to Ohio St. football players isn't a huge deal.  "But Cloften, it's against the rule.  The rules! The rules!!!!!!"  Agreed, those are violations of the NCAA rules for athletes and every school knows this and every player knows it as well.  Those are violations that call for punishments of some kind.
However, these are not the violations that finished off Ohio St. and brought hope to Michigan fans everywhere and a twisted sense of vindication for Razorback fans.  ("Yeah, see. They were cheaters.  We should have won that game.  We would have if those cheaters hadn't been out there."  Let's agree on this: we should have won the game, by playing better.)  What ultimately brought down Jim Tressel was lying about it.  The coverup, the lying about the coverup, and the coverup of the lying about the coverup are what were considered unacceptable by the University, the NCAA and every sports fan.  What I mean by "every sports fan" is all sports fans except for those who would consider the beating of Michigan literally the most important thing that can happen in a year.
Had he simply told his compliance director and athletic director, this would have played out differently.  Maybe he knew the problem was so deep, that it was "better" to keep lying, because if everything was exposed, he would be in even more trouble.  He felt that his only hope was to try and convince the world of a lie that ultimately he knew wouldn't last.
Do you know what this reminds me of?  "Yes, we do.  It's what everything reminds you of–your kids."  Hmm, I suppose I am predictable.  This is what my kids do.  They are caught doing something, but with minimal evidence.  Then they tell a preposterous story, and they will defend that story until it completely falls apart.  This makes Dad quite angry.  There are times when the offense is so small that had they said, "Sorry, Dad," that would have been it.  "Thank you. Please don't do it again."  However, when you add lying to the list of offenses, now there has to be some punishment.  Lying always makes it worse.  Always.  Covering it up always makes it worse.  Always.  Maybe not immediately, but it catches up with you.
Do you know what this reminds me of? "Yes, we do. You are very predictable.  It reminds you of all of us."  No need to be harsh; maybe you should just start writing these yourself.  I know that none of us like to admit to being wrong.  Well if that's true, then just admit it quickly.  Wait, what?  Think about it.  You are only having to admit being wrong once.  If you lie, then you will ultimately have more things to confess.
Dishonesty really does rot us from the inside  It begins to eat away at us slowly.  We are never better off after the lie, even if we've "gotten away with it."  You never get away with it.  (Christian cliche alert) God knows, His Spirit inside you knows, you know.  We only make it worse when we add deception.
So whether you are trying to get away with yelling at your sister, a bad habit you want to hide from your wife, or maintain the integrity of THE Ohio State University, don't do it.  Don't lie.  Confess, take your lumps and move on. There is freedom there.
Lie to Me is the best show on TV that you are probably not watching.  It is a show about a group of deception experts that get hired to solve various cases where they are trying to determine who's lying and why.  It is clever, smart and funny and Tim Roth is great.
Anyway, the downside to this show is that you start using what you're learning.  They talk about ways that people mask lies and then you're hanging out with your friends and you see them do some of those things.  (If you start watching the show, this is your warning.  Do not use your new knowledge on your friends and family)  The classic one that people use all the time is this one.  You ask them a yes/no question and they want the answer to be yes, but really they are thinking no.  For example, "how was your visit with your family last week?"  They then make this face: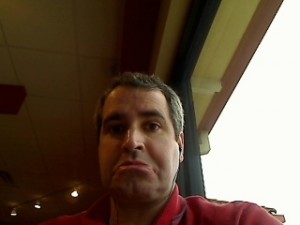 Then they start nodding their head and in high pitch voice, they say, "good. . . It was good."
I just want you to know that if you pull that on me, I know you're lying.  I won't necessarily call you out.  It depends on how well I know you.  You need to practice not making that face and going with the high pitch voice.  It's a dead give away.
Again, I don't mean to use this on you, but I just can't help it.  Lie to Me:  It's fun and educational.