When Life Makes You Scared
Confession time: Fear often gets the best of me.  I project often as a confident, self-assured leader.  There are times that is exactly what I am.  However, sometimes I'm afraid.  I'm scared that I am not the husband that I'm supposed to be, or father, or pastor, or leader.  Sometimes, I hear from God what the next step is that God wants me to take in my life and it scares me.  I feel inadequate.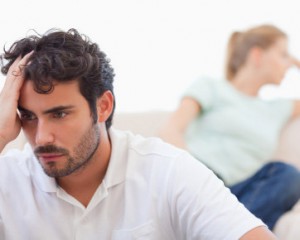 I remember my very first day as a pastor.  I was going to work part-time as a small groups pastor at my church in Conway.  I had lobbied hard to get this job and I believed that I could do the job well.  I believed that it could be a great step for me out of college ministry and into being a pastor. I believed that I would do this well and then they would offer me job full-time and my career would take off.  So, on the first day of work, I went to the church office and sat behind my desk.  My first official act as pastor was…panic.  I had no idea what to do first or next.  I sat there frozen.  I would love to tell you that this lasted for a couple of minutes.  Insert the word hours for minutes.  I was earning my paycheck that day for sure! I did the only thing I knew to do which was call my wife, Heidi.
She did a great job of calming me down and telling me that I would do great.  She told me to make a list of everything that needed to get done and then slowly do them one at a time.  She told me to pray and she prayed with me.  The anxiety began to pass.
Most of us have been there or may be there right now.  You know what you are supposed to do, but fear is winning.  God wants you to restore a relationship.  He wants you to reach out to someone who is hurting or far from God.  He wants you to take a risk with your career.  The biggest one that many of us face is that he is calling you to stop that destructive sin that is ruining your life.  When it is obvious that God is wanting us to stop doing something we shouldn't be or start doing something that we need to be doing, we can get scared, overwhelmed and desperate.
The people of Jericho found themselves in such a desperate situation in Joshua 2.  The Israelites are, for the second time, on the edge of the land that God had promised them.   Joshua sends out 2 spies to check out the city of Jericho that God has promised to them.  The king of Jericho hears that the spies are in the land and perhaps have taken shelter at the home of Rahab the prostitute.  (The fact that she is a prostitute is superfluous to the story, except as a stark contrast of a stereotype.  You would expect a prostitute to be the least sensitive toward the leading of God, but the opposite is true.  Also, how did the spies end up at a prostitute's house?  Another post for another day.)  The king, in what you think is an act of confident counter-attack, sends his soldiers to find and capture/kill the spies.
However, we find out that it was not an act of courage but of desperation.  Rahab explains that the whole city is terrified of Israel.  They have heard the stories about how powerful the God of the Jews is and they are scared that they are next to be judged by this God.  They don't know what to do.
Rahab and all of the people of Jericho had 3 options.
1) They could choose to fight. They find themselves backed into a corner.  It is clear to everyone that God is against them.  Rather than choose humility, they choose the ridiculous.  They choose to fight God.  They would rather die than admit to themselves, others and to God that they were wrong.  We see the king doing this, at least at first.  He hears that the Israelites have sent spies into the land, and he believes that he can thwart them and God's plan if he captures the spies.  He is still fighting.
2) They could choose to hide. They knew that they couldn't fight God so they make the decision to just cower and hide and let themselves and their city be destroyed.  This is what Rahab says that most of the city has chosen.  She says that they are "melting with fear."  They admit defeat, but they do so without humility.
3) They could choose to humble themselves and follow God. This is Rahab's choice.  She stands in the face of the soldiers from her king and lies to them.  Death would seem imminent in such a situation.  However, Rahab chose in that moment to fear God rather than the king or the soldier that was staring her in the face.
Many of us are staring soldiers of our own in the face right now.  It is not that we are uncertain as to what God wants from us.  We are not unsure about what the next, best step is.  Uncertainty and ambiguity are not our problem.  Fear is our problem.
I was scared to get married.
I was scared to have a daughter.
I was scared to have another daughter.
I was scared to adopt.
I was scared the first day of every job I have ever had.
However, I chose God in each of those circumstances and peace and joy and fulfillment beyond my expectations were on the other side.  Fighting God is pointless and hiding gets me nowhere.  I must choose in the big picture issues of my life and in the day to day moments to not choose fear, but to trust.  That's where life is.