I can still feel Colorado when I think about what it was like to live there.  Unfortunately, I don't mean how I felt seeing how beautiful it was or the cold moutain air or anything awesome like that.  When people ask me how was it living in Colorado, I tell them that I wouldn't know.  I lived at seminary, the Chick-Fil-A where I worked and the church where we attended and volunteered.  Those things happened to be in Colorado, but I was way too busy to notice.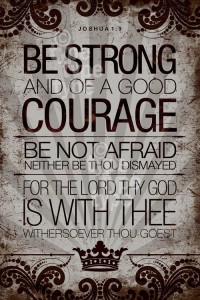 When I say I feel Colorado, I mean the pain that I felt in how hard that season was.  It started bad and got worse.  The reason I was there was to finish seminary, but I had hoped to do that remotely with my new small groups pastor job at my church in Conway.  I didn't get the job.  I actually didn't even get interviewed.  It was hard and hurtful.  The first real disappointment in my life.  Then we moved…in with my in-laws.  They were great and generous to do that, but it's a shot at the manhood regardless.  I was delivering pizzas for a boss 10 years younger than me.  My car broke down and couldn't be fixed.  The car we replaced it with stranded me 6 times in a year.  Right before we were about to sell it, it literally blew up.
How did I respond to this? Short answer: poorly.  Another short answer: whining.  I was so good at having a pity party.  I cried a lot and I yelled a lot.  At 28, I was unprepared for this level of disappointment.  I lacked the courage that was needed to face adversity and learn from it.  Rather than allowing God to use it in my life, at least for a season, I allowed it to wreck me.
I take comfort that I can say that I was like Joshua, one of the greatest leaders in the Bible.  Unfortunately, I comparing myself to his worst moment, but at least I can say that I am like him.
Joshua and the Israelites had just seen God do an incredible miracle at Jericho.  Now they were on to Ai.  Unknown to Joshua, Achan had stolen some of the treasures that God had forbidden.  As such, when they attacked Ai, God wasn't with them.  (A fact that Joshua could have known, if he had consulted God before the attack on Ai.  Instead, he rushed in and attacked, forgetting that it was God that had brought them victory, not their soldiers or his military acumen. Another great lesson for another day.)
After their defeat at Ai, Joshua goes straight to whining and complaining mode.  He tells God that it would have been better if they had never come to the promised land at all.  He questions God's integrity and wonders why God brought them all this way just for them to be wiped out.  Questioning God's integrity is never a great option.  God, however, is gracious with Joshua and explains Achan's sin and the solution for Joshua.
What should Joshua have done? Said another way, what should we do?  When a plan we are convinced is God's plan goes wrong, what is the right response? When severe disappointment comes, what do we do?
1) Remember what God has already done. One disappointment does not negate what God has already done in your life.  God had just brought down the wall of Jericho.  He is still the same God.  The same God that has brought you to where you are and loved you and served you is the same God that is with you now.  You may not understand the what or the why of what's happening now, but the character of God is the same.
2) Stop and ask God what's going on.  The question is always asked, "Why do bad things happen to good people?'  The answer is both simple and complicated.  The simple answer, as with most deep questions, is that it depends.  The complicated answer:
It could be sin.  That was the problem for Joshua.  This is where the phrase "sin in the camp" comes from.  God was opposing them because of sin. The drunk driver should not complain to God about why he is jail.  The man who neglects his wife should not complain about her affair.  God shows us tremendous grace but that doesn't mean that the trial isn't a result of sin.
It was never God's plan. We become convinced that God wants us to do something, but we never really asked him.  We confuse what we want with what God wants.  This is also in play here.  Joshua never asked God if it was time to attack or how.  Why didn't I get the job at my church? Because, for a lot of reasons, it wasn't right for me.  What I took as disappointment and a trial was God protecting me from what would not have been a good situation for me.
Your plan is off. I firmly believe that God is calling me to reach people in NWA through The Grove Church.  We have seen some success.  We also have had some things we've tried go wrong.  Why? They weren't good ideas.  The solution is stop doing that and start doing something different. Why was God not with us? It was a bad idea.
You live in a fallen world. Sometimes the answer is bad things happen to good people because those good people live in a bad place.  Don't let the overwhelming blessing you live under blind you to the fact that we live in a broken world where bad things happen.
3. Listen to God and trust him. Too often we can pray and ask God a question but we fail in the obvious next step–listening.  God will answer you.  I can make no guarantees on his timing, means, or favorability, but I can guarantee an answer.  When faced with disappointment or a trial, reach out and then listen.  Then trust whatever he says.  Don't go where Joshua went.  He led with a distrust of God.  He believed the worst first.  Even in that, God met him and gave an answer.  Then we see Joshua choosing to trust and follow again.
I am walking through a lot of trials with different people right now.  Some are doing well and some are not.  The difference between them is simple–they have the courage to trust and follow God.
Confession time: Fear often gets the best of me.  I project often as a confident, self-assured leader.  There are times that is exactly what I am.  However, sometimes I'm afraid.  I'm scared that I am not the husband that I'm supposed to be, or father, or pastor, or leader.  Sometimes, I hear from God what the next step is that God wants me to take in my life and it scares me.  I feel inadequate.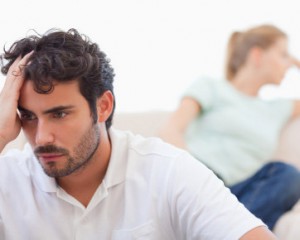 I remember my very first day as a pastor.  I was going to work part-time as a small groups pastor at my church in Conway.  I had lobbied hard to get this job and I believed that I could do the job well.  I believed that it could be a great step for me out of college ministry and into being a pastor. I believed that I would do this well and then they would offer me job full-time and my career would take off.  So, on the first day of work, I went to the church office and sat behind my desk.  My first official act as pastor was…panic.  I had no idea what to do first or next.  I sat there frozen.  I would love to tell you that this lasted for a couple of minutes.  Insert the word hours for minutes.  I was earning my paycheck that day for sure! I did the only thing I knew to do which was call my wife, Heidi.
She did a great job of calming me down and telling me that I would do great.  She told me to make a list of everything that needed to get done and then slowly do them one at a time.  She told me to pray and she prayed with me.  The anxiety began to pass.
Most of us have been there or may be there right now.  You know what you are supposed to do, but fear is winning.  God wants you to restore a relationship.  He wants you to reach out to someone who is hurting or far from God.  He wants you to take a risk with your career.  The biggest one that many of us face is that he is calling you to stop that destructive sin that is ruining your life.  When it is obvious that God is wanting us to stop doing something we shouldn't be or start doing something that we need to be doing, we can get scared, overwhelmed and desperate.
The people of Jericho found themselves in such a desperate situation in Joshua 2.  The Israelites are, for the second time, on the edge of the land that God had promised them.   Joshua sends out 2 spies to check out the city of Jericho that God has promised to them.  The king of Jericho hears that the spies are in the land and perhaps have taken shelter at the home of Rahab the prostitute.  (The fact that she is a prostitute is superfluous to the story, except as a stark contrast of a stereotype.  You would expect a prostitute to be the least sensitive toward the leading of God, but the opposite is true.  Also, how did the spies end up at a prostitute's house?  Another post for another day.)  The king, in what you think is an act of confident counter-attack, sends his soldiers to find and capture/kill the spies.
However, we find out that it was not an act of courage but of desperation.  Rahab explains that the whole city is terrified of Israel.  They have heard the stories about how powerful the God of the Jews is and they are scared that they are next to be judged by this God.  They don't know what to do.
Rahab and all of the people of Jericho had 3 options.
1) They could choose to fight. They find themselves backed into a corner.  It is clear to everyone that God is against them.  Rather than choose humility, they choose the ridiculous.  They choose to fight God.  They would rather die than admit to themselves, others and to God that they were wrong.  We see the king doing this, at least at first.  He hears that the Israelites have sent spies into the land, and he believes that he can thwart them and God's plan if he captures the spies.  He is still fighting.
2) They could choose to hide. They knew that they couldn't fight God so they make the decision to just cower and hide and let themselves and their city be destroyed.  This is what Rahab says that most of the city has chosen.  She says that they are "melting with fear."  They admit defeat, but they do so without humility.
3) They could choose to humble themselves and follow God. This is Rahab's choice.  She stands in the face of the soldiers from her king and lies to them.  Death would seem imminent in such a situation.  However, Rahab chose in that moment to fear God rather than the king or the soldier that was staring her in the face.
Many of us are staring soldiers of our own in the face right now.  It is not that we are uncertain as to what God wants from us.  We are not unsure about what the next, best step is.  Uncertainty and ambiguity are not our problem.  Fear is our problem.
I was scared to get married.
I was scared to have a daughter.
I was scared to have another daughter.
I was scared to adopt.
I was scared the first day of every job I have ever had.
However, I chose God in each of those circumstances and peace and joy and fulfillment beyond my expectations were on the other side.  Fighting God is pointless and hiding gets me nowhere.  I must choose in the big picture issues of my life and in the day to day moments to not choose fear, but to trust.  That's where life is.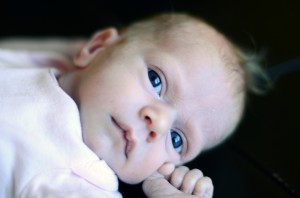 I will never bungee jump.  I have ridden thrilling roller coasters and climbed tall mountains, but I will never jump.  I am terrified of heights, and although roller coasters and mountain climbing touch on that nerve, they are gradual, or I am strapped in and unable to do anything but hold on with my eyes shut and scream while the roller coaster creeps its way upward in infinite "click, click, clicks" to its summit.  Bungee jumping, however, is different.  Not only are you at some unholy height above the earth, but as you peer down to the ground "miles" below you, you must choose to leave the platform.  They don't push you.  You have to jump.
It's the jumping I have a problem with.  Given the choice, I choose the platform…safety…certainty…over the probably exhilarating experience of freefalling.  My desire to protect myself from the possible pain of splatting on the ground prevents me from experiencing the thrill of reaching the end of my rope just short of the splat and having it spring me back into the air for another gleeful descent.
So for years I stood on the "platform" peering off the edge at the freefall that was adoption.  We wanted more children; we knew there were children who needed families, and we felt certain that there was, as my husband would say, "another Loften out there somewhere."  But I could not jump.  I filled out paperwork.  I looked at waiting children websites.  I prayed.  I talked to adoptive moms about their experiences.  I talked myself into it.  I talked myself out of it.
There were too many horror stories.  The "splats" at the bottom of the jump.  Costly international adoptions fruitlessly pursued for years.  Heartbreaking domestic adoptions interrupted by unforeseen biological relatives.  Plus the timing was never right for our family.  We were going to move.  We had just moved.  Our biological daughters were too young.  Now they were too old.  Our family was no longer in that season.
What if there was a "splat?"  That would mean devastation for our daughters too.  For years I had coped with the pain of infertility, wanting more children, planning for more children, but being heartbroken month after month, year after year.  My heart was scarred and bruised, no longer bleeding, but still fragile.  I couldn't choose to throw it off the platform.  I feared it could not endure a splat.
For years my husband and I had seesawed, each taking turns being the one who was "pursuing adoption" and the one who was making con lists.  During one of his "pro list" phases, we went to a meeting.  We filled out paperwork.  But we were still safely on the platform because we were currently living in an apartment and would not be able to have a home study until we moved into a house.  Then we moved into a house.  Then we had a therapist friend over for dinner who worked with some boys who were eligible for adoption.  And she asked if we would consider trying to adopt them.  And my heart screamed, "YES!" And God pulled up next to that bungee jump platform in a roller coaster car and harnessed me and my fragile heart in.  We "click, clicked" up higher and higher as God carried me through the adoption process.  I no longer felt like I was peering off the edge of a platform trying to muster the courage to jump, but as if I was strapped in, being taken somewhere that I wanted to go although I was not brave enough to get there.  Friends and family pointed out to me that I was leaving the safety of the platform—"Are you sure you want to do this?" "It's been a long time since you had little ones." "Aren't some of those foster kids really messed up?"  "What if you fall in love with a child and then they go back home?"
All I could do was agree with them.  These were valid concerns, and I could see the safe platform becoming smaller and smaller in my rearview mirror.  But I was strapped in, and God was driving.  He did not wait for my weak and wounded heart to become strong enough to risk being hurt again.  He knew I could not and would probably never be able to jump into the uncertainty of adoption.  But I could trust My God enough to strap myself into His roller coaster.  He didn't ask me to trust the process, or the agency, or the circumstances, or the people.  He asked me to trust Him.  God and I had a lot of history together.  He had proven His love for my weak and wounded heart time and time again.  I could trust Him.
Four years later, I look back at the roller coaster ride that was the adoption process, and I cannot believe I survived it.  If I had been able to see the death falls and inverted spirals from the platform, I know my fear would have kept me from climbing aboard and buckling up.  By the time our home was open for adoption the 2 boys who lit a fire in my heart had been adopted–the first roller coaster loop.  But when my beautiful, blue-eyed 4 year old daughter wraps her precious arms around my neck and squeezes, "Mom, I love you a million billion one hundred and thirties," my eyes well with gratitude and humility.
Thank you, Lord that you chose this broken, fearful mama for adoption and carried me onto a ride more awesome and rewarding than any I could ever have the courage to choose for myself.